Hunky Santa and the Candy Cane Girls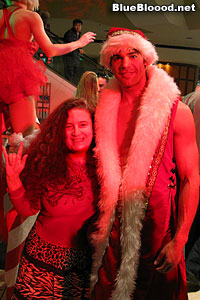 Whenever I travel, I think about buying real estate wherever I am. I live in Los Angeles. I love my Hollywood neighborhood. Due to the peculiarities of the housing market, there are two houses on my block which have been for sale for over a year. I'd be pleased to own either one of them, but they both list at more than a mil, despite the fact that clearly nobody is rushing to pay that for either of them. So I rent. Even if I had a million and a half dollars to drop on real estate, which alas I currently do not, I wouldn't spend it on something unlikely to appreciate and unlikely to sell for what I paid for it. This sort of thing causes me to drool at the costs for houses in Portland and even shopping malls in Baltimore. I travel and I think I could just write a check for a house in many cities yet I despair of ever buying one in Los Angeles.
But then something like Hunky Santa rolls around and reminds me why I can never leave La-La-Land. For the last half dozen years, my favorite local mall, the Beverly Center in Beverly Hills, has featured a Hunky Santa. (I probably spend more at South Coast Plaza where I get my hair cut, but that is in another county and thus does not count as local.) This year, Hunky Santa has been getting a frantic flurry of attention, way above and beyond prior years, because they cast Eli Wilhide as Hunky Santa and he is remarkably perfect for the role, in both appearance and personality presentation. According to All Things Christmas, in order to play the sexy son of Old Saint Nick, one had to best 350 other applicants for the job of Hunky Santa. Eli Wilhide brings his experience as an Anthony Robbins motivational speaker or Peak Performance Strategist to the role of Hunky Santa. Eli Wilhide certainly works at that peak performance thang, as evidenced by his diet and workout tips for the LA Times and of course the results of his regimen.
As Xmas approaches, during the week and early in the day, the Beverly Center features Classic Santa and then, on weekends later in the day, Hunky Santa and the Candy Cane girls do hourly performances thereafter. A lot of people show up for this hourly act and some dress up their dogs or children in red ribbons or Santa hats to get into the holiday spirit for the occasion. There are two huge red silks hung down multiple floors of the mall for female acrobatic Candy Cane girls to contort on. The shows also feature those dances where the chick waves the ribbon around and does impressive flexible moves, like they had during the Olympics. I admit that, here at Blue Blood Global Secret HQ, we did refer to the ribbon event as the Stripper Olympics, but I digress. The Candy Cane girls also included a particularly awesome and effervescent stilt-walker.
After each show, both Hunky Santa and the Candy Cane girls move through the considerable audience making people feel holiday cheer and just radiating a certain pleasant warmth. I think that kind of intense close-up attention would make me hyperventilate with social anxiety after a few days, but I was extremely impressed with how welcome and joyous Hunky Santa and the Candy Cane Girls were able to make shoppers feel. They really brought an upbeat vibe to an otherwise less-than-cheery holiday shopping crowd.
So I will always love that Los Angeles is the kind of place where they would be able to cast the perfect Hunky Santa and have incredibly talented Candy Cane Girls. Just for weekend performances at the mall.
Shortlink:
Posted by
Amelia G
on December 22, 2008. Filed under
Blue Blood
. You can follow any responses to this entry through the
RSS 2.0
. You can leave a response or trackback to this entry