Death Guild Monday with Blue Blood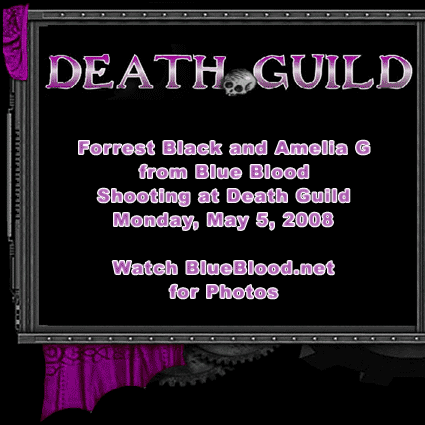 The first time I ever went to Death Guild was when Forrest Black and I were out in San Francisco for Bat of House of Usher's Zine Slam. We were there promoting Blue Blood in print and also my antisocial punk rock humor zine BLT or Black Leather Times.
This was like more than a decade ago, so when Vampira Bat and Nixon Sixx suggested dropping promoter Decay a line, I was thinking he might not remember me. Pretty much the first thing he ever said to me in person was to give me grief for not publishing an article he wrote and submitted to my zine BLT. His article was fine and contained some punk education; it just didn't fit the BLT format. So the first thing he emails back to me yesterday is his cell number and the pledge "I promise not to give you shit about the story I submitted to you guys in 1990." So we are two veterans who do indeed remember each other.
As most Blue Blood readers probably know, we are celebrating our fifteen year anniversary this year. Death Guild is also celebrating their fifteen year anniversary. Death Guild DJ Margo was even a covergirl for one of the older designs of BlueBlood.net. The moral of the story here is that having perserverence and longevity means that somebody somewhere will always remember it if there was that one night you drank too much, that one person you said that thing to, the time you gave someone a mohawk you were not supposed to, that guy you threatened with a shotgun, or potentially the weird factoid about that person they always confuse you with. If you stick to your guns and succeed, every little thing ever will probably haunt you. Just thought y'all would like to know.
For everyone in San Francisco and the surrounding environs who is searching for what to do this coming Monday night, I am excited to let you all know that Forrest Black and yours truly will be shooting more beautiful pictures and hanging out and generally having a blast at Death Guild at The Glas Kat aka The Trocadero at 520 4th Street and Bryant. We'll be picking out just a few club-goers who represent the feel of the night and photographing them. With a dose of introspection as we kick it olde skool with some folks who have earned their stripes (or big boots as the case may be.)
Shortlink:
Posted by
Amelia G
on May 3, 2008. Filed under
Blue Blood
. You can follow any responses to this entry through the
RSS 2.0
. You can leave a response or trackback to this entry