Talking Dirty at SXSW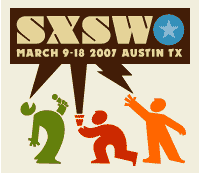 SXSW is upon us once again. This reminds me that I meant to post the podcast of a panel Halcyon and I and this camgirl Seska did at SXSW. Halcyon is the king of coming up with humorous, lurid, and otherwise catchy panel titles. This means that, like me and like most web professionals, he has about a billion funny site domains. His main home on the web is currently CockyBastard, although Pinkgasm is listed in the SXSW credits. I'll spare you all full bios, but SXSW edited my bio to say "Amelia G holds the titles of editor, writer, and photographer who founded Blue Blood" instead of just saying I'm an editor, writer, and photographer. My title on my business cards says chick-in-charge and writer and photographer are not titles. SXSW is a fun conference and they felt very strongly this particular year that it was vital that they refer to those things as titles, so I rolled with it and who knows what process they used for deciding how to specify site or company for each guest speaker.
At any rate, here is the MP3 podcast of our panel:
Pay Up! Should Publishers Choose the Porn Path?
Moderator: John Halcyon Halcyon Styn Digital Explorer, Pinkgasm
John Halcyon Styn Digital Explorer, Pinkgasm
Amelia G Chick in Charge, Blue Blood
Seska Lee Sajnet

As the public becomes more comfortable paying for premium content and services, what can we learn from the pornographic trailblazers? What billing models and payment systems are working online in porn that would successfully crossover to mainstream? What types of content and services can types of sites are ready for the Porn Path of Pay to Peruse? The panel will include veterans in the online adult industry discussing relevant trends and lessons learned.
My work with the SpookyCash B2B affiliate program, which allows people with high traffic sites to get paid for sending members to pay sites, is probably most relevant to what we discussed. So I gave away like a gajillion SpookyCash T-shirts to folks I chatted with after our panel. One of the people who came up after we spoke introduced herself as the ex of Kevin from the cover of Blue Blood #5 in print. This intro was a little nerve-wracking, but she turned out to be cool and Kevin assures me their relationship is amicable. What I make as a content producer is not porn, but the panel was really a discussion of the pay-for-content business model which primarily works for naughty membership sites.
The other big sex panel at SXSW that year was:
Sex and Computational Technology
Moderator: Amanda Williams, University of California at Irvine
Amanda Williams University of California at Irvine
Violet Blue Blogger, Open Source Sex
Johanna Brewer University of California at Irvine
Kyle Machulis Engineer, Nonpolynomial Labs
Cory Silverberg Author & Educator, Come As You Are & About.com

Computer technology has moved off the desktop and into homes, cars, pockets, and urban streets, in support of human relationships casual or intimate. Sex is an important facet of human experience, something that intertwines with intimacy, domesticity, mental health, play, and many other areas of our lives. Sex + tech is more than lots o' internet porn. Let's talk about teledildonics, virtuality, intimate interfaces, assistive technologies, and more.
The Sex and Computational panel was a lot of fun and it did not take long to figure out that the exuberant Kyla Machulis was qDot from SlashDong. SlashDong is a site I discovered via Molly Case's SexyFandom which is all about pimping out electronics for orgasmic purposes. If you have ever wondered what would happen if you hooked a sex toy to pretty much any other device in existence, SlashDong probably has your answer, along with technical diagrams. For this SXSW panel, qDot brought a number of entertaining little devices and just lit up the room with his personality. To shine on a panel with so many big personalities on it takes some serious oomph. Hopefully, this comes through on an MP3 podcast the same as it did in person. After this panel, everyone from the various sex panels except for Halcyon who was MIA all went for dinner together, and we got to have a spirited debate about sex workers rights and exploitation and eat pretty tasty SouthWestern. I told Kyle Machulis how I had first come across his site and we talked about how SexyFandom had not updated in a while, but Molly Case said she'd be getting back to it real soon (hint, hint).
Austin has good SouthWestern cuisine and requires a lot of eating and drinking. UT Austin was my safety school and all I have to say is thank goodness I did not end up going there or I would have had liver failure before my sophomore year. Not that it would not have been an entertaining journey to liver failure.
You can check out a number of SXSW podcasts which are not sex-related on the podcast page of the SXSW site.
Shortlink:
Posted by
Amelia G
on March 12, 2009. Filed under
Blue Blood
. You can follow any responses to this entry through the
RSS 2.0
. You can leave a response or trackback to this entry