Bacon of the Month Club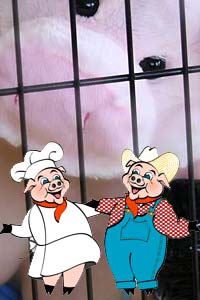 Friends keep pointing out that there is a bacon of the month club. Actually, I think there may be a number of bacon of the month club options.
The Pig Next Door comes up quickly in a search engine attempt to locate the bacon of the month club. The Pig Next Door offers artisan bacon from sustainably-farmed specialty breeds. If you are a bacon fan, and I am, this sounds pretty good and they offer six month and one year bacon subscriptions, priced according to just how special the pigs are. Speaking of pigs, my friend senior Blue Blood writer Will Judy has a really thing about cartoons of animals being used to sell meat products. He is offended by cartoon cannibalism. Although I did not come to this concern on my own, I always think of it when I see a comic strip style pig raising a trotter to vote in favor of bacon.
So I do a little more research and it turns out that The Pig Next Door is a Johnny-come-lately, started only a year ago, looking to cash in on the bacon of the month concept pioneered by The Grateful Palate. The Grateful Palate has been selling bacon and bacon-related products online for more than a decade. Ah, the joy of the internet age, when nothing is so esoteric a niche that it hasn't been knocked off and repackaged by someone. In addition to what may be the original bacon of the month club, The Grateful Palate also offers pig noses and pig T-shirt memorabilia. You can always go with the less cannibalistic T-shirt option of showing off the "I got porked by the Grateful Palate" slogan across your chest. You get a shirt and a little rubber toy pig with your bacon club membership. You also get an official Bacon of the Month Membership Card, in case a bouncer ever asks you to show one. And you get a pig nose, in order to facilitate cannibal role play.
My friend writer/director David Aaron Clark once took me to BDSM club The Vault in New York, in its heyday. And there was the option for gents to be dominated while wearing pig noses or masks. I have trouble eroticizing rubber facial prosthetics shaped like pigs or like anything else really. Yet I love muppets, fun fur coats, and the bottom half of most furry costumes. Go figure. For those less specific in their tastes and needs than I am, there is always pet play. Bet you've never seen someone in a pig or panda head do that before. Or maybe you have. I'm going to go fry up some uncured, sustainably-farmed, artisan bacon now, even though I'm not yet a member of the Bacon of the Month Club.
Shortlink:
Posted by
Amelia G
on September 28, 2009. Filed under
Blue Blood
. You can follow any responses to this entry through the
RSS 2.0
. You can leave a response or trackback to this entry