2033: The Future of Misbehavior
2033: The Future of Misbehavior is a collection of science fiction vice tales, compiled by the editors of Nerve and apparently sponsored by Svedka vodka. The front matter reads, "Instigated by Svedka", but I'm going to go out on a limb and believe that instigated means sponsored in this instance. Although it could just mean that was the editors' tipple of choice during production. For example, this post is instigated by Intelligentsia Coffee.
2033: The Future of Misbehavior promises to deliver interplanetary dating, madame president, socialized plastic surgery, and other good news from the future, and it makes good on that promise and then some. I enjoyed the variety of authors included. It was not just the usual genre suspects, so there is a real diversity of tales.
As I am a huge Jay McInerney fan, it is probably no surprise that I was amused by his "After the Patriarchy" ditty, which features a lecherous female boss and a male subordinate whose codpiece shows he is just asking for it. Amanda Boyden's "The Eleventh" dealt with the sacrifice of our celebrities in an interesting way. I think my favorite story in the book was by Ann Marie Cox. Ann Marie Cox is best known for her political blogging at Wonkette, so I had not even known she wrote fiction, much less science fiction. Her "Tabloids Bring Back Family Values!" shows neighbors jockeying for position, not with how trim their lawn is or how expensive their car, but with reality show style relationship disaster hijinks. The true fetishist would be hot for a genuine warm encounter with the person they are technically supposed to be with.
2033 may be closer than the Svedka club kid bot knows.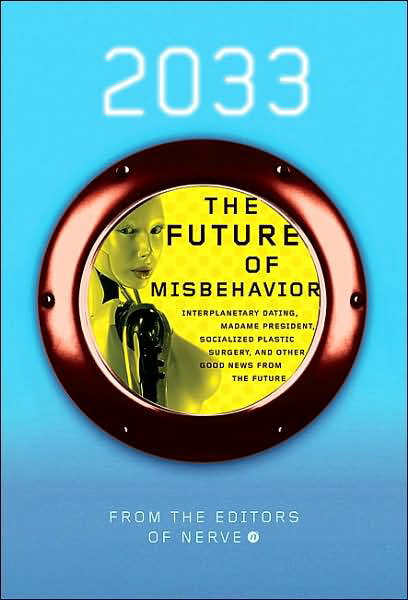 Shortlink:
Posted by
Amelia G
on December 8, 2010. Filed under
Books
. You can follow any responses to this entry through the
RSS 2.0
. You can leave a response or trackback to this entry