Last Hour to Back Tura Satana Documentary
Over the years, Blue Blood has covered and worked with many incredible artists who found inspiration in Tura Satana's work. In addition to the cool folks mentioned in the Kickstarter text — Quentin Tarantino, Margaret Cho, Rob Zombie, John Waters, and Dita Von Teese — you can give thanks for creators like Taime Downe and Tairrie B. Not to mention of course Russ Meyer and Elvis Presley. And probably most of your favorite alternative modern pinups and dancers. A talented woman who truly made her mark on the world. I like that TURA! the Tura Satana documentary was fully authorized by its iconic subject. Only an hour left to back the Kickstarter.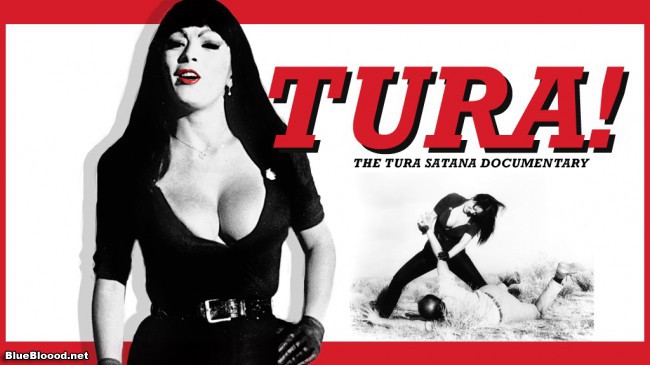 "TURA!" is the true life story of cult movie icon & burlesque dancer TURA SATANA, chopped straight from the pages of her handwritten memoir. Best known as the star of Russ Meyer's classic film Faster, Pussycat! Kill! Kill!, Tura stunned 1960's movie audiences as the sexy, dominant, fast-driving, karate-wielding lesbian gang leader Varla. Her groundbreaking look, attitude, and performance were all years ahead of their time and continue to influence everyone from Quentin Tarantino and Rob Zombie to John Waters and Dita Von Teese.

Still, Tura's screen life was nothing compared to her real life. As a child, Tura was imprisoned at Japanese American WWII internment camp Manzanar. As a pre-teen, she was the victim of a brutal, racially-motivated gang rape. But instead of letting those early tragedies destroy her, Tura flipped it around, reinventing herself into a world famous burlesque dancer, Asian American cinema hero, and most importantly, the living definition of female self-empowerment.

Featuring incredible new interviews with John Waters, Dita Von Teese & more, and narrated by Margaret Cho, TURA! will be a fascinating, thrilling white-knuckle ride through the life and career of one of the most infamous "bad girls" in cinema history. TURA! also serves to finally place Tura Satana alongside Bruce Lee in the pantheon of the most influential Asian American performers the world has ever known.

The production of this film was Tura Satana's deathbed wish. Help her, and us, make it a reality. TURA! — Just do it!

(This film is the AUTHORIZED DOCUMENTARY Tura Satana personally initiated prior to her death, being produced by her estate and closest friends).
Shortlink:
Posted by
Amelia G
on April 11, 2017. Filed under
Personalities
,
Popcorn
. You can follow any responses to this entry through the
RSS 2.0
. You can leave a response or trackback to this entry