Universal's Accepted Opens, Throws Fun Beer Blast
Universal's Accepted Keg Party Photo Gallery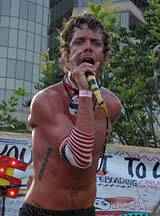 Estimated opening weekend gross for Accepted is around $10 million, which is hunky-dorey for a movie with a production budget of only around $23 million. I don't know what percentage of those movie-goers also attended Comic Con or talked to someone who did, but Accepted did the most brilliant promotion at the convention.
Comic Con is the largest convention of its type in the U.S. This year, significantly more than a hundred thousand people showed up. Which is significantly more than the forty thousand or so the city of San Diego could probably handle. It was impossible to park anywhere near the convention center and it was approximately one billion degrees and the food in the convention center concessions started tasting kinda rancid by the second day. And, even for pretty literally nauseating food, the lines were likely to take an hour or so. Which cuts down on one's collectible-browsing time. So, by the end of the day, everyone was sort of running on empty, streaming out of the San Diego Convention Center en masse, hungry and a long way, under a hot sun, from their transportation.
So the promoters of the Accepted movie threw a collegiate-style beer blast and barbeque across the street. The basic concept of the flick is that an enterprising young man is rejected from every college he applies to, so he creates his own institution of higher learning called South Harmon Institute of Technology. Yes, that acronym is what you think it is. The star-studded event featured a skateboard ramp and a giant banner reading "Welcome SHITheads" with the San Diego Gaslamp district as a backdrop. While waiting in a refreshingly fast-moving line for food, I was standing a couple of feet from James Duvall. While I wouldn't talk to someone at my local supermarket, I'm generally in outgoing and friendly mode at a show like that. So I'd normally have told him that I like his work, but all of a sudden I got this horrible mental flash of the appalling scene where he's castrated in Gregg Araki's Doom Generation and I didn't want to encourage my brain to keep going in that direction when I was about to eat.
The burgers and hot dogs were shockingly good and generously handed out. There was water and soda, in addition to beer, despite the kegger theme, but I think vegetarians might have been stuck with cheese and toppings. There might have been veggie burgers too, as I admit I was pretty transfixed by the yumminess of my own carnivorous fare.
The party had a fun and light-hearted vibe. A nicely straight-up rock band, called The Ringers, with a pleasingly sleazy sound kept the energy level up. I got bashed in the head when some of the actors from the movie got up on the stage and started throwing free T-shirts into the crowd. The gentleman who hit my noggin gave me the T-shirt he'd just caught, though, so it was all good. It says, "Ask me about my wiener." Because I didn't have enough lewd shirts already.
The trailer for the movie looks humorously promising and Lewis Black who I love from Comedy Central's Daily Show is in it. If Universal knows how to throw a fun keg party, odds are good that they know how to make a fun movie. Best theatrical release promo ever.
Shortlink:
Posted by
Amelia G
on August 20, 2006. Filed under
Blue Blood
. You can follow any responses to this entry through the
RSS 2.0
. You can leave a response or trackback to this entry