No Matter Where You Go: Austin SXSW 2005
This feature was originally published May 18, 2005. With this year's SXSW looming close, I thought it would be fun to bring it back.
–Amelia G
photography by Forrest Black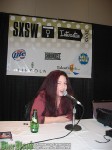 Every time I take a trip to some place which is not Manhattan or San Francisco, I start drooling at real estate. Property is at such a premium in Los Angeles that I can't help it. On my recent jaunt to SXSW, the cab driver who picked me and Forrest Black up at the airport must have known this. He launched into the most amazing dissertation on the socioeconomics of the city of Austin. He told us that 120,000 of the city's residents are students at any given time. The majority of cab drivers have at least a Bachelors. The city is the live music capitol of the U.S. and perhaps the world. Nightlife is hopping. Booze stops flowing at 2am, but some clubs stay open dry until 4am on weekends. Finding nightclubs which serve coffee should not be difficult. Panhandling is not totally uncommon. High speed wireless access is quite common. There was once a student at UT Austin who dropped out after his frosh year much to his doctor father and stockbroker mother's dismay, but now he is one of the biggest employers in Austin and his name is Michael Dell, you might have heard of him. Forrest and I might even have gotten some tips on playing Texas Holdem as the cabbie was also a tournament poker player, but alas we arrived at the Hilton. I kicked myself for the rest of the week for not getting that first fascinating and wonderful cab driver's phone number. Later on we kept getting this chick who must have bribed her way or something into being the main cab driver in front of the Hilton during the big SXSW convention and she was a total scammer who repeatedly claimed not to have change and snarfed an extra $20 from us when she dropped us off at the airport at the end. Regardless, being used to the cablessness of Los Angeles, it was kind of nice to be able to be driven places fairly easily.
The checkin guy at the Hilton was adorable and super friendly and nice and I headed upstairs to sack out. Due to loathsomeness on the part of American Airlines, which I will for the moment spare you all the details of, I sort of missed the first night of SXSW Interactive. It involved a talk about the success of Alien Hominid I think. My bed at the Hilton was tiny but the mattress was oh so very comfy and the sheets felt super nice to the touch. Apparently a prior guest had broken into my mini bar before I checked in. The Hilton folks were amazingly nice and friendly and told me that sometimes this happens with underage guests who they don't give a bar key.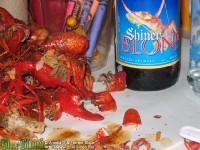 I ate at a place called The Boiling Pot my first night in town. Not only did they have crawfish which I expected, but they also served blue crabs which I had thought were something one could only get in the Chesapeake Bay area. The waitress was charming and friendly and discussed my beverage tastes with me. I couldn't get sparkling water, but she recommended the local Shiner Blonde based on my preferences and totally steered me right. Shiner Bock by the same company is apparently more commonly consumed but is a bit darker craft beer.
I ate waffles and steak for breakfast the next day at the Hilton and the hostess was friendly and the waitress was so amazing she almost made me like morning. I kept waking up early and eating breakfast in Austin and then wanting to go back to sleep. Of course, I had panels and seminars and keynote speeches and such to go to most days, so I ended up a little sleep-deprived the whole time. I was not alone in this though. The panel I got up earliest for was the Blogging Software showdown which was totally worth losing a few zzzz for. It always makes me happy when something I enjoy is created by someone who is just as great as I would want them to be. Matthew Mullenweg, the founding developer of WordPress, came across so passionate and brilliant that it made me feel all warm and fuzzy about loving his creation.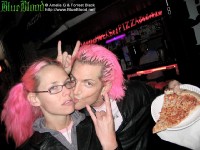 The second day Halcyon and Tassy swept into town. They had just participated in a reality show in Jamaica. They basically got to the airport in San Diego, pulled some things out of their bags, threw some clean things in, and headed back to the airport to hit Texas. Despite all this air travel, they looked tanned and lovely and once they arrived, the party got going in earnest.
Apparently famous cyberpunk author and futurist Bruce Sterling used to always give a party at his house during SXSW Interactive. But now he has succumbed to the siren song of Los Angeles. So Wired sponsored him throwing a shindig at an American Legion Hall where he ran around in pajamas demonstrating how a still works. Actually most of the parties were just as educational as the seminars because of the intelligence and curiosity about the world of the people partying. Ben Brown, the self-proclaimed Internet Rockstar, gave a bash at his Home for Wayward Boys which includes a hot tub and which a biker-looking cabbie told us was in a shifty neighborhood. Whatever that means. Looked great to me, although I guess the host did say something about bodies being dumped in the area.
Then again, some folks just need killin'. Blogger gave a party and we got groovy baseball caps. Gawker gave a party at a bar which is one of an apparent 211 nightlife locations in Austin which chose to be smoking establishments. What this means is that patrons can smoke in side, but everybody has to be over eighteen years of age. I guess so second-hand smoke won't stunt their growth or something. This bar didn't have Shiner Blonde, so I had a Lone Star to keep with the local theme, but it wasn't totally my thing, so I switched to Amaretto sours. I appreciate Gawker buying me the drinks but kind of wish I hadn't mixed alcohols.
Halcyon, among other things, is in the process of launching a site called Pinkgasm with Tassy. He says it is going to be "love-infused porn" and I believe him. Jonno D'Addario is the editor of my favorite sex news site Fleshbot. Halcyon and Jonno are collectively two of my favorite people who move in online naughtiness circles. When I told Halcyon, who is a SXSW vet, that I wanted to go to the convention this year, he set me up to speak on a panel called "The Business of Pleasure: Turning Pink Into Green." For the record, he named it, not me. The convention quite reasonably thought we should have a third person on the panel. Halcyon asked me who I thought would be good and Jonno was the first person I thought of. We both loved the idea of having him speak with us and happily the convention organizer agreed. I was a little bit worried that the panel would be such a lovefest that we wouldn't be interesting enough for the audience. But we actually got together beforehand and planned and stuff and, although we all like each other, our viewpoints and experiences are not identical, so I think the panel actually went super well.
I've spoken in front of a lot of different audiences over the years, but this one was very different. I try to pay careful attention to audience response and see which topics I should spend more time on, according to what they seem most interested in. This was a new experience for me because the audience was so techie that many of them were blogging about the panel while it was going on or talking in IRC about the panel. The conference takes place in a convention center with wireless access in every nook and cranny. I definitely came home thinking that I crave all sorts of new tech toys.
Returning to eating which is my favorite thing to do, the Blue Blood contingent all lunched in Austin with a bunch of cool interesting people at a place with Asian food of some sort called Mekong Somethingorother which was pretty nummy. There were whole shrimps with the tail still on sticking out of my sort of egg roll and the lemonade was delicious. In the middle of the night, the always-open Magnolia Cafe supplied me with a taste of gingerbread pancakes and other folks with all sorts of Tex-Mex breakfast fare. No bottled water though. We ate pizza at a place which played death metal. Loudly. We ate pizza at a bunch of other places nestled in between clubs with different sorts of music emanating. We ate at a place called Jazz which specializes in cajun food and we got to eat beignets made from mix shipped in from Cafe du Monde in New Orleans and fried oysters. It seems like every place in Austin features raw oysters, so I knew they had to have fresh ones, but I like mine cooked thanks and was overjoyed to find such especially excellent fried ones on my last day. Technically, I guess I also had cooked oysters at Finn & Porter, the Hilton's higher end restaurant, but they had some creative wasabi thing going which would probably be done better where I live, although the service was great and the steak was perfect and, unlike most every other place in Austin, they had some damn sparkling water for me.
It is really easy to get booze and coffee in Austin, but it is kind of difficult to get anything actually thirst-quenching. Juice tends to be high quality when found but not too common and sparkling water is just a fantasy. Austin is right off a river so it is much less dry than Vegas, but I got way more dehydrated there. Forrest opined that perhaps this dearth of hydrating beverages is the reason cowboys look like raisins. I tend to think this must be an accurate observation.
But I could be a pruney mofo with some damn affordable real estate in a great walking neighborhood with friendly if sometimes a little disorganized denizens. Then again, Bruce Sterling is a smart guy and he left Austin for Southern Cali. More research in the field is clearly called for. Now where should I check out next . . .

Shortlink:
Posted by
Amelia G
on March 7, 2007. Filed under
Blue Blood
. You can follow any responses to this entry through the
RSS 2.0
. You can leave a response or trackback to this entry