Golden Girls Gone Wild Event a Success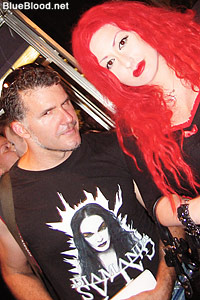 Well, damn, if we didn't all have a really good time at the Golden Gals Gone Wild gallery show this weekend. I admit I was, to a certain extent, dubious about the concept. I wasn't really allowed to watch television as a child. My parents didn't want me to turn out weird or antisocial or anything. So I have never seen the TV show Golden Girls, although I understand it is about a group of charismatic elderly babes who still speak like human beings, instead of like people's warped concept of what people are supposed to act like as they age. I have this pretty much on hearsay and having walked through a room where the TV was on. So, anyway, I'm sure there were nuances in the work displayed this past Saturday which would have spoken to someone more versed in old television shows.
Curator Lenora Claire spent $110 on an oil painting by artist Chris Zimmerman off eBay, featuring Golden Girls actress Bea Arthur (I think she was the sexy one, but maybe that was Blanche Devereaux.) in the nude. Lenora Claire loved the painting and decided that it's existence in her possession was a great reason to throw a massive multi-artist gallery show to celebrate the whole theme. I was charmed by the idea, as a lot of projects I end up blowing up into ridiculously huge things start off with exactly the same sort of thought process.
I had additional really excellent reasons for going to the gallery show, despite my innocence of sitcoms of yesteryear. First, Blue Blood's own Ed Mironiuk did a sleekly latex-clad Bea Arthur for the show, which was featured in fliers and all that good stuff, but I love seeing art in person and I like to support my friends' creative output and I like to see Ed Mironiuk, but he lives on the East Coast. Also, some of my unsavory pals and I thought having gone would be an entertaining conversation piece. One of my friends was threatening to spend the whole time texting people to tell them "hey, guess what I'm at!" It seemed like half the people in the gallery space actually had cell phones out and were doing this and it made for a super packed event.
The art show at the World of Wonder Storefront Gallery on Hollywood Boulevard transcended the theme, however. I did not have to be an aficionado of the show to really enjoy the art there. Kudos to Lenora Claire for gathering up a really interesting diverse group of creative people. A few standouts including amazing use of texture were Jason Mercier's junk portrayal of Rue McLanahan and Elmer Presslee's flowery Bea. The punk fantasy of Austin Young's piece was a cool take on the theme, which made me look him up when I got home. In the clean commercial lines department, I really liked the superhero quadtych (Is that a word — like triptych only four?), a little blue naughty piece, and of course Glen Hanson's piece, which was also used for commemorative T-shirts. I can't believe I didn't take a picture of Glen Hanson, as he was wearing essentially gold lamé underwear and looked delightfully striking. And it took something to be striking in a room where go go dancers sported giant paper maché granny heads and a DJ complained that they had been planning to hang work by club kid killer Michael Alig. No idea why Alig didn't show, but I'm guessing a club kid famous mostly for killing someone because he couldn't figure out how to otherwise acquire drugs . . . well, I'm just saying there is some Darwinism there and maybe not so much responsibility.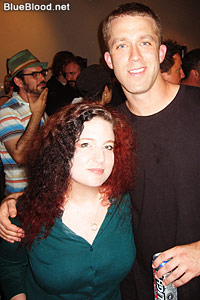 Luminaries in attendance included Blue Blood head designer/artist Forrest Black, Blue Blood hottie Scar 13, Blue Blood hottie Xochitl (who Forrest Black and I each thought the other had photographed that night), artist Kristin Tercek of Cuddly Rigor Mortis fame, writer/gadfly Clint Catalyst reporting for BuzzNet, writer/director Ramzi Abed creator of The Black Dahlia Movie, editor Tony Pierce from the LAist, fashion designer Adele Mildred, and writer Tucker Max who was there to support Rudius Media artist Jim Wirt of Coloring Book Land.
Incidentally, I mentioned in a previous feature on Tucker Max that he was coy about whether or not he did cocaine. It seemed to me, in a very funny story he wrote about a Las Vegas vacation, that he was deliberately avoiding committing to whether or not he had done blow in the land of casinos. He would like me to share that he would absolutely have just said it, if he was nose down in white powder and that, in point of fact, he has never done, and never intends to do, cocaine. I've been trying to decide if I agree with the Tucker Max theory of "beer and hot chicks" versus "hookers and blow," but I'll have to get back to y'all on that one.
Clint Catalyst, fresh off his acting turn with Michelle Tea and Guinevere Turner in In the Spotlight told me he started off the evening with a lot more makeup and had gone through five outfits over the course of the night. At the bottom of the page, you can see the video Clint Catalyst shot, including some footage of Forrest Black at the beginning.
I have to say that I kind of wished I had brought a change of clothes because it was ridiculously hot in the gallery. My clothing was so drenched with sweat that I actually did go home and change my shirt before going to an afterparty. (Admittedly, my home is on Hollywood Blvd, in between where the gallery is and the house in the Hollywood Hills I was going to afterwards, but it was hot.) It was so hot inside that what might normally be delicate napkin-blotting to avoid damaging makeup quickly became the full on athletic-style blot or face squeegee. World of Wonder could stand to invest in some A/C. You will notice in the photos of the event that Scar and I are making what appear to be peculiar gang signs; we are fanning ourselves in the oppressive heat.
Excessive warmth notwithstanding, whether or not attendees were Golden Girls fans, I think everyone had a good time. I got to see tons of people I like, who I don't see every day. There was a crazy mix of people. In fact, the demographics were so mixed that it was like a game of rock/paper/scissors whether people were going to go in for the handshake, the Hollywood hug, or the cheek kiss. I'm usually not a big fan of kitsch, because I feel an artist should truly own what they create and not hide behind irony, but a lot of the Golden Gals Gone Wild artists really rose to the occasion and it was a smashing fun event. I can tell it is going to be a really fun time in Los Angeles this season, can practically smell it on Hollywood Blvd. Not that I want to go around smelling Hollywood, but you get my meaning.
Shortlink:
Posted by
Amelia G
on August 14, 2007. Filed under
Blue Blood
. You can follow any responses to this entry through the
RSS 2.0
. You can leave a response or trackback to this entry