Joel Awesome Does Pirates 2: Stagnetti's Revenge
Last week I had the curious privilege of seeing Pirates 2: Stagnetti's Revenge on the big screen at the posh Orphium Theater in downtown Los Angeles. For those of you who don't know Pirates 2 is the biggest budget adult movie ever made. Produced by Digital Playground and directed by Joone it features a cast of A list adult talent and a bevy of Hercules: The legendary journeys grade special effects. I was a guest at the premier because I and my girlfriend Kitty were extras in the movie. Being an extra in the biggest budget adult film ever made is kind of a strange honor and a little bit surreal. I had this opportunity because a good friend of mine was the assistant casting director on the film who one afternoon sent me a text out of the blue asking; "Do you have any pirate gear?" Of course I did. He wanted to know if I wanted to make a few bucks and be in a movie, so of course I said yes. He told me after I agreed what I had signed up for which only made me more stoked. The first day I was on set I was crazy. I had driven up from San Diego to Van Nuys for filming kitted out with my pirate gear and when I showed up was told that they needed 18th century-ish British Sailors. I'm fine with changing what I'm wearing but at the time my hair was two tone black and platinum and my nails were half an inch black acrylics which sent the costume director into fits. After I was hatted and be gloved (I think I just verbed two nouns) I was sent in to the set for filming. The set was absolutely the best thing ever. It was a life size mock up of a pirate ship up on scaffolding in this huge green screened sound stage. I then spent the next few hours driving the boat through a storm on the opening scene. Look in the background between the bishop and the young man. That fuzzy back of head? That's me! That young man awkwardly asked me if I was one of the people who would be "taking their clothes off."
I wound up briefly meeting Katsuni who was pleasant and Evan Stone who wasn't actually filming that day but had come to play pranks and get into mischief.
Later in the filming I went up with Kitty as the scene we would be filming that day called for female extras for the crowd in the Pit fight with the giant slug thing. You can see kitty and I pretty clearly for a few seconds in this scene. Can you guess which one I am? This day was a tough one for me as my two favorite adult entertainers; Belladonna and Sasha Grey were on set together and in the scene with us. Both of these ladies are absolutely adorable and Belladonna was smart and fun. Unsurprisingly Kitty and Belladonna hit it off during the filming with light flirting back and forth. Later one of the male actors was flirting with Kitty and lifted her skirt and was so impressed with what he saw that he called Belladonna over to inspect. Belladonna told my girlfriend "You have a beautiful Ass and Vagina; you should join my porn family." To which my girlfriend said no. I didn't really catch much of what happened after that as I was too stunned to take anything in. My girlfriend said no to Belladonna. I'm still not sure I've forgiven her.
So filming is over. I've been on set several days and in front of the camera a fair amount and made enough money to make the excuse to come to LA more than worthwhile.
A few months pass and I get an email from Digital Playground inviting myself, Kitty and two guests to the premier. I call up my friend the Assistant Casting director to find out what his plans for the evening are. Turns out that he is renting a party bus which he'll be taking from Long Beach to Downtown and he asks if we'd like to join. Something in the back of my mind tells me that this is a horrible idea but I go along with it anyway. My friends and I drive up to Long Beach and hop on the Party Bus which was supposedly stocked with alcohol only to find a half a liter of Popovs and 6 coronas. I start to get a bad feeling. The other guests pile on and it's 18 guys and 3 girls. I've got a really bad feeling. One of the guests asks if we can detour into Hollywood at 7 o'clock on a Saturday night to pick a "Hot" girl up. I have a Star Wars scale C-threepeo flying into the Deathstar bad feeling. We get to the Orphium at 9:30. Showing starts at 9:30. We get in have no time to socialize and have to find seats almost immediately. Happily I ran into the assistant Physical Special Fx artist from film who happens to be a cute redhead to whom I am attracted. I find seats for my group which now includes redhead and a date that she is less than pleased with and we sit through the movie.
This was my second experience watching Porn on the big screen. It's been really weird both times. The first time was "Lollypop Girls In: Hard Candy in 3-D" complete with John Holmes in your face 3-d moneyshot. This time I'm in the fucking movie, which was pretty good by the standards by which you judge adult content. The sets were cool, the dialogue funny, the acting actually pretty freaking good, and the special effects were hokey in a fun way. The only thing I had a problem with was the amateur Foley effects, and the horrendous editing of the sex scenes. It was also weird to be watching porn and have it be inappropriate to masturbate or fuck. It was like going to a buffet and watching other people eat while you're hungry.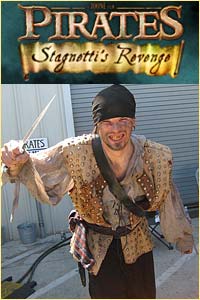 So the movie is over and credits roll and there's Joel Awesome (thanks Amelia for the lamest Porn name ever) and Ashley Fields (Kitty used her real name for some reason). Seeing my name in the credits was a surprisingly big thrill. It was the first time I'd ever seen my name on the big screen. Ok, the silly name Amelia gave me, but still it was cool.
So the movie is over and we mill around in the lobby for a bit trying to figure out what were doing. I'm keeping an eye out for the talent because I'm now working for a San Diego based Halloween Prop and Sex toy maker. One of the products we're developing is a life sized sex doll that utilizes technology to make exact replicas of people and my boss wants me to pitch being scanned to the girls. My girlfriend meets Jenna Haze and flirts with her for awhile and secures us an invite to the afterparty at an upscale LA club a few blocks away. My plan is to start the dialogue on licensed products at the afterparty.
We pile into the party bus and somehow the driver manages to get us lost for 20 minutes when we were only going 4 blocks. It was downhill from there. Apparently the party bus was only reserved for 6 hours, which put our Times-Up at 1:45 am. We arrive at the afterparty at 1:00 am. We were all told by someone onboard that we had the bus all night.
My friend Elvis (everyone should have a friend called Elvis) has some pull in the LA bar scene and scored us a 10 seat table with two bottles -for free- that we wound up not getting to use because we had to leave as soon as it was ready for us.
I had already started the ball rolling on the introductions to the girls from running into Ron Jeremy who at a previous party had fallen asleep on my shoulder (long story). THEN some idiot drunk somehow managed to drive his car through the gate in front of the club, and when he realized that he was driving in a walkway gunned it into the velvet ropes and tried to drive away down a blind alley. He clipped two of my friends with his bumper (no real injury) and was then caught and cuffed by security. The Owner of the club comes out and offers us more free drinks and better accommodations than what we've already got as an apology just as we find out that we've got to go. This would have been fine if the return destination hadn't been in Long Beach. It took about an hour for us to get back to our vehicles and by then we were too exhausted and irritated to contemplate going back for more. Lesson learned. Do not take a party bus unless you are going from somewhere fun, to somewhere fun, and back again and make sure you have it rented for the entire time you might want it, not just the time you need it.
It was a fantastic experience and I hope that I have many more opportunities to do more crazy shit like it and Belladonna if you're reading this, I'll happily join your porn family.
Shortlink:
Posted by
Joel Awesome
on October 9, 2008. Filed under
Blue Blood
. You can follow any responses to this entry through the
RSS 2.0
. You can leave a response or trackback to this entry