Top Ten Pirate Movies of All Time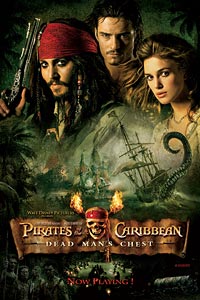 1. Pirates of the Caribbean: The Curse of the Black Pearl, Pirates of the Caribbean: Dead Man's Chest, Pirates of the Caribbean: At World's End — I'm going to count the Pirates of the Caribbean trilogy which came out in 2003, 2006, and 2007 as all one entry in the pantheon of greatest pirate flicks of all time. I think most modern pirate enthusiasts like them some swaggering Johnny Depp. Costumer Penny Rose was nominated for numerous awards and won a Saturn Award from the Academy of Science Fiction, Fantasy & Horror Films, so I think it is fair to say that Pirates of the Caribbean is the biggest influence on current scurvy costuming for events such as tomorrow's International Talk Like a Pirate Day.
2. Pirates of Penzance — Next up is the Pirates of Penzance, although it is hard to pick which version. Leap Day plays an important part in this story and Leap Day has been important in my personal life. Plus I think I first learned about pirates when I saw a live production of the Gilbert & Sullivan production in Manhattan. I consulted with my father on which movie version is best because, at summer camp as a kid, he played the part of the boy whose half-deaf nursemaid accidentally apprentices him to a pirate when she is supposed to send him off to learn the pilot trade. Pirate, pilot, anyone could make that mistake. Gilbert & Sullivan operettas are of course intended to be funny, but the D'Oyly Carte G&S company played the roles straight and just allowed the humor of the situation come through. There was also a more recent version featuring Kevin Kline, Linda Rondstadt, and Angela Lansbury. You can go to your Netflix queue and try both the Kline version (either 1980 or 1983) which is played more broadly for laughs and the 1982 version featuring an international cast of Broadway singers, comedians and artists from D'Oyly Carte.
3. Peter Pan — I'm going to go with the 1953 animated Disney version of Peter Pan because I like cartoons. I prefer antisocial cartoons like South Park, Home Movies, and The Simpsons. Peter Pan and the pirates are all pretty antisocial if you look at it just right though. I mean, Peter Pan is the bad boy who comes to Wendy's window and tells her never to take on adult responsibilities and the pirate are, well, pirates. I've been trying to recall whether my first exposure to the concept of pirates was Pirates of Penzance or Peter Pan, but I'm not sure. It was years before I realized pirates were actually supposed to be kinda scary and badass.
4. The Pirate — No compendium of pirate movies would be complete without at least one full-on musical with lots of dance numbers. In the unimaginatively-named The Pirate, Gene Kelly does the swashbuckling pirate softshoe until Judy Garland's character falls in love with his pirate self. When I was in junior high, I remember adults talking about what a great dancer Fred Astaire was, but, at least at
age eleven or twelve, I thought Gene Kelly was foxier. For bonus kink factor, The Pirate was directed by Vincente Minnelli who was, of course, married to Judy Garland at the time.
5. Hook — I'm including Steven Spielberg's 1991 What if Peter Pan grew up? movie just because I know most people I hang out with would. Personally I found the movie too dismal to be feel good and not nearly dark enough or nonconformist enough to be tasty on that end of the spectrum.
6. The Ice Pirates — I saw this 1984 masterpiece of bad cinema in college with other members of the Science Fiction Club. I actually was personally responsible for getting my university to give us funds to engage in such activities. I'm willing to hear opinions on other movies featuring space pirates, but I really feel any socially responsible pirate countdown should take the future into account and include, ya know, space pirates. The Ice Pirates includes a smokin' hot young Anjelica Huston.
7. The Black Pirate aka The Black Buccaneer — If we go all the way back to 1926 and the heyday of Douglas Fairbanks, we finally get some really badass pirate action. Douglas Fairbanks is credited with writing the story for the movie and also playing the eponymous Black Pirate. We think we are so much more debauched and dangerous now, but this 1926 film featured a hero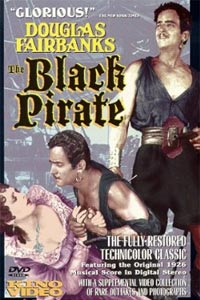 who has to avenge his murdered father and save his leading lady from gang rape and a pirate king. Douglas Fairbanks was one of the founders of United Artists and was largely responsible for spawning the whole genre of films known as swashbucklers. I feel special affection for Douglas Fairbanks because his tomb is spectacular and just down the street from me, so Forrest Black and I have photographed scores of beautiful naked gothic girls by his final resting place. Fun fact to know and share about The Black Pirate is that, when the screen action got hot and heavy, Fairbanks' wife Mary Pickford was the body double for his movie love interest played by Billie Dove. Also, at the time it came out, The Black Pirate was considered to feature the finest and most impressive swordfight ever captured on celluloid.
8. Captain Kidd and the Slave Girl — I admit this 1954 flick is mostly interesting for its skimpy costuming on its female stars Eva Gabor and Sonia Sorrell. The only thing Sonia Sorrell did after Captain Kidd and the Slave Girl was a bit part in the uber-goth May/December romantic comedy Harold and Maude. Eva Gabor of course went on to do about a billion things and be a superstar and international sex symbol. Anthony Dexter's Captain William Kidd is assisted by his best mate played by Alan Hale Jr., a former child star who went on to play The Skipper on Gilligan's Island. I really wanted to justify Gilligan's Island as a pirate film, but was stymied by it really being a TV series. The Doctor Who Space Pirates serial was eliminated on the same grounds.
9. Captain Blood — In this 1935 masterpiece, Errol Flynn really stamped his flavor indelibly on the swashbuckler genre. As Dr. Peter Blood, he is a maverick who is not afraid to voice unpopular opinions. Seventy some odd years later, some of the religious and political dialog in this movie can still shock. Consequences be damned! Of course, the consequences are that he is enslaved and shipped off to the Caribbean and has to ally himself with pirates and swashbuckle his way to freedom and the heart of Olivia de Havilland's Arabella Bishop.
10. Pirates — The breakout adult film of 2005 is, if this is even possible, less imaginatively named than the Gene Kelly song and dance vehicle above. In a genre not known for originality, director Joone can be forgiven for a simple title. Porn Valley folks who do mainstream adult video are always talking about how they are going to make a porn movie with actual production values, but almost nobody ever actually does it. Pirates starred Jesse Jane, Carmen Luvana, Janine, Teagan Presley, Devon, Austyn Moore and Jenaveve Jolie. An all-star cast to be sure, but that has been done before. The difference is in the elaborate pirate costumes, lavish scenery and effects, and Joone's attention to detail and quality in both the nekkid parts and the clothed ones. Pirates II: Stagnetti's Revenge, the sequel to Pirates, is just about ready for release. As I counted the Pirates of the Caribbean movies as all one entry, it is probably fair to count Pirates and Pirates II as both part of the same entry in the Blue Blood Top 10 Pirate Movies of All Time countdown.
September 19th is International Talk Like a Pirate Day, so watch pirate films and arrrrrrrr, yo, ho, ho, ho, and a bottle of rum!
Shortlink:
Posted by
Amelia G
on September 18, 2008. Filed under
Popcorn
. You can follow any responses to this entry through the
RSS 2.0
. You can leave a response or trackback to this entry