Liking Sex and Money and Being Fundamentally Lazy is Profitable and Witty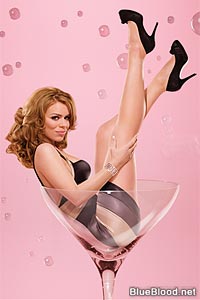 If I were a nearly immortal, highly intelligent, time-traveling, space-faring, womanizer of an alien with a lot of heart(s) to give, I would definitely totally want to get me a long string of very high end companions. If I were an alien from Los Angeles, I might prefer that they be adoring, young, and paid for. This apparently is the case for those who hail from Gallifrey or London as well. The Doctor aka Doctor Who found the perfect companion in Rose Tyler played by Billie Piper. The Doctor picked Rose up when she was a cute blonde working retail, told her of a more thrilling life, and whisked her off in his chick magnet car Tardis right in front of her boyfriend. Talk about dark triad!
All of which is a roundabout way of getting to the important point that Showtime debuted their airing of Secret Diary of a Call Girl. Which also stars actress Billie Piper. Playing, ya know, a prostitute. Secret Diary of a Call Girl originally aired on Britain's ITV. After a bidding war between HBO and Showtime, Sho secured the rights. There was some conjecture that Showtime would censor the show for non-European sensibilities. They have apparently kept it delightfully intact and there is some full frontal male nudity in at least the first episode, albeit in a context more humorous than turgidly hot. The dialog is witty, the acting engaging, and the cinematography showcases Billie Piper's Belle character with a lover's eye. The original airing on ITV even won a UK Adult Film Award for best softcore. I don't know what a UK Adult Film Award is, but it certainly sounds like some sort of porn seal of approval for excellence in hotness.
To give you a bit of history, the whole thing started out with a journal on Blogspot called Belle de Jour after the 1967 movie where the glorious Catherine Deneuve plays, ya know, a prostitute. Albeit one who only does it as a hobby because her housewife existence is so tedious. The blogger Belle (not to be confused with any classic movies directed by Luis Buñuel) was purportedly a high end call girl in London who blogged about her life but whose identity was never discovered. This blog lead to multiple books deals and the Showtime airing of Secret Diary of a Call Girl and ITV is reportedly shooting a second season of the Billie Piper vehicle this coming fall. So somebody found out who Belle really was sufficiently to cut her some checks for her writing and ideas anyway. Secret Diary of a Call Girl is inspired by the blog and books, but it is fictionalized for our viewing pleasure.
I have no idea whether this is going to turn out to be one of those situations where J.T. Leroy turns out to be a woman or an alleged businesswoman turns out to be the PR mouthpiece for an actual businessman. Certainly some people assert that this is the case. From a sex worker politics and feminism perspective, this is an issue, but, from an entertainment perspective, it is less of one. I like that so far the series depicts a woman who says she likes sex and likes money and admits that she is "fundamentally lazy" and that these are the ingredients for a perfect whore. There is none of that sexist victim nonsense where cinema loves to pretend that women only do anything with their own bodies because some man makes them. Yet Secret Diary of a Call Girl is exploring what happens when one commodifies something as delicate and potentially complicated as human sexuality.
I'm looking forward to seeing where they go with these themes and all the fabulous funny lines in the show. You can check out the first two episodes for free at this VIP Secret Diary secret link on the Sho site. Enjoy.
Shortlink:
Posted by
Amelia G
on June 19, 2008. Filed under
Blue Blood
. You can follow any responses to this entry through the
RSS 2.0
. You can leave a response or trackback to this entry