True Blood
Given the huge ad campaign HBO's True Blood ran just about everywhere, including this site, you have probably heard that there is a new vampire show of some sort on cable television. I actually had planned to do a feature article about the brilliant ad campaign for the show, but it was one of those times when pesky life gets in the way of writing. True Blood had some damn sexy billboards, posters, and bus adverts and, of course, banners on targeted sites like Blue Blood, and some sort of sweepstakes. The show takes place in a world where vampires have "come out of the coffin" and are looking for equal rights, opposed by the expected fundamentalists, and assisted by a mysterious Japanese company which has produced a synthetic blood substitute called Tru Blood. We've actually still got some great background videos explaining the setting of True Blood which I'll see about posting after the hectic rush of Halloween is past.
But the really cool thing about True Blood is that the storylines are character-driven, the themes are righteous, the sex is in-your-face varied, and the lighting and cinematography are really beautiful. The series was developed by Alan Ball, award-winning writer of American Beauty and creator of Six Feet Under, based on the Charlaine Harris Southern Vampire Mysteries. The sort of focus character is the telepathic Sookie Stackhouse played by a perky yet strong Anna Paquin, the Oscar-winner best known to dorkdom for her recurring role as Rogue in the X-Men movies. Her character would probably come across as more feisty if not for her balls-to-the-wall best friend Tara Thornton, played by powerful newcomer Rutina Wesley. I don't know where they found Rutina Wesley, but I love everything from the way her arms are just a little butch to the way she embodies the character cussing everyone out, both when needed and when not needed. Brother Jason Stackhouse is played by Ryan Kwanten. Sookie's romantic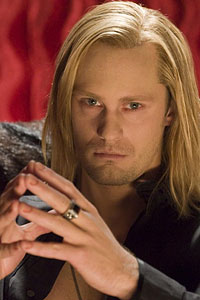 leading man is played by Stephen Moyer. I normally wouldn't mention someone's personal life, but, whether it is out there for PR or privacy invasion, the gossip blogs are abuzz with reports that Stephen Moyer and Anna Paquin are real life lovers, which may account for their incredible smoking hot on-screen chemistry for Sookie and Bill the vampire. In theory, I guess the audience is supposed to wonder whether Sookie will end up with Sam Merlotte, the owner of Merlotte's the bar where she waitresses. Some people in the fictional Louisiana town Merlotte's is in might find the guy suspect because he is from elsewhere and has a hint of the supernatural about him. Maybe part of the reason I personally instinctively don't like the character is that the only other thing I ever saw the actor Sam Trammell, who plays Sam Merlotte, do on camera was get murdered by serial killer Dexter Morgan on Showtime's Dexter. But really I'm bugged by someone's boss at their regular all-the-time job hitting on them aggressively. I know they may not enforce anti sexual harassment laws that well in the South, but, ew, so not hot. The characters who inhabit True Blood's Bon Temps are plentiful, deepy realized, and very interconnected, so I won't list every single one, but there are two hot boys I can't go without mentioning. The first is camboy/hooker/drug dealer/short order cook Lafayette Reynolds, played with gusto by Nelsan Ellis who hadn't been in a whole lot of things before, but is jump-off-the-screen charismatic in this show. The second is Viking/nightclub impresario vampire Eric Northman, played by Alexander Skarsgård, fresh off his textured starring role on HBO's Generation Kill.
I realize that a high percentage of the Blue Blood audience has been watching True Blood all along, what with the whole vampires, sex, kink, gothic punk, clubland and bar nightlife, and both disenfranchised and entitled weirdos thing in common. But, if you haven't treated yourself yet, all previously-aired episodes are now available via On Demand. Incidentally, True Blood showcases a variety of different moods and types of sexuality, manages to shoot each sex scene a bit different from the last, makes the sexuality feel consistent with what each specific character would be into, and is so hot that even a professional can't tell whether some of the actors are actually having full-on real sex or not. When the acting and styling is that good, the point of insertion is just a footnote in my opinion. So, uhm, yeah, True Blood is pretty much my favorite new show this year.
This week, True Blood kicked it up another notch with a guest starring turn from Stephen Root, of Office Space fame, playing the lonely dork vampire who lives for Monday nights when he watches Heroes and then trades his blood for hot gay hooker sex with Lafayette. Plenty more grisly human nature ensues and let's just say we definitely can't wait until next week to see what happens to his stapler.
Shortlink:
Posted by
Amelia G
on October 27, 2008. Filed under
Blue Blood
. You can follow any responses to this entry through the
RSS 2.0
. You can leave a response or trackback to this entry