John Updike RIP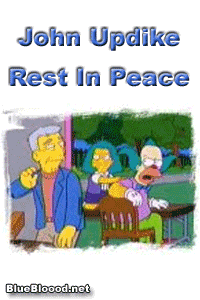 Writer John Updike passed away this morning. I used to confuse John Updike and John Irving, so I was, as a child, afraid to pick up a John Updike book, for fear someone would get their penis chomped during a blow job. Of course, that was "The World According to Garp", but I already said I was a kid when this confused me.
Most obituaries today will probably mention the Harry "Rabbit" Angstrom novels which won John Updike two Pulitzers. The series is Rabbit Run, Rabbit Redux, Rabbit Is Rich, Rabbit At Rest, and Rabbit Remembered. I don't really recall why I confused Rabbit and Garp, other than perhaps just the fact that both participated in somewhat unappealing grown-up sex I was too young to understand. I've seen a few obits today which refer to John Updike as a chronicler of small town life", but only people from Manhattan think Ipswich, Massachusetts is small town America, John Updike wrote about the suburbs during a time when Americans were migrating from the cities to the burbs. On the topic of adulterers from suburban New England, John Updike once famously said, "if I have not exhausted it, it has exhausted me." (Actually, I've seen that quote written a few ways over the years, so he once famously said something kinda like that which expressed that sentiment.)
For a writer, John Updike's commitment to actually produce writing was inspiring. He was very candid about the fact that his prose writing paid the bills more than his fiction did, and that he liked the security of knowing that something along the lines of a book review would be published . . . and paid for. The Simpsons alluded to this in the episode "Insane Clown Poppy" where John Updike writes a Krusty the Klown bio called Your Shoes Too Big To Kickbox God. Your Shoes Too Big To Kickbox God is of about the same commerce/quality ratio as all Krusty endorsed products, which is to say it is comedically short and better for making money than whatever its stated purpose is. Krusty Burger, anyone? Delightfully, John Updike voiced himself on The Simpsons.
If, unlike me, your siblings don't use Mr. Burns sound files as their custom ring tone for you, you would probably be most aware of John Updike as the writer of The Witches of Eastwick. The Witches of Eastwick is possibly the only time I saw a movie before I read the book and then didn't read the book. (I saw Fight Club before reading the book, but I read it.) Ironically, the reason I didn't like the movie enough to seek out the book was that the aforementioned witches conjure the perfect man and he is Jack Nicholson, who was not nearly femme-y enough for my taste at the time. Over the years, I've grown to appreciate Jack Nicholson more because, in adult life, fearlessness and force of personality are so deeply more important and enjoyable than sharp cheekbones and full lips. And I've grown to appreciate John Updike more because I am now more sympathetic to (or at least tolerant of) weakness of character, of the sort John Updike so deftly wrote about, than I was at age twelve. As a child, I thought that only bad people were imperfect. Part of growing up is accepting that nobody, including yourself, is as perfect as you wish.
Much is made of the fact that John Updike had one of his fictional characters win a Nobel Prize in Literature. The famous author did win a lifetime achievement Bad Sex in Fiction Prize. And, as mentioned, a couple Pulitzers. And a couple National Book Awards. And about a gajillion other honors. So I think his life can count as one well-lived, without the Nobel. I just looked at a listing of all the winners of the Nobel Prize in Literature from 1901 to the present. I'm pretty darn well read and I've only heard of maybe half a dozen of the winners from the past thirty years. You have to go back to Jean-Paul Sarte in 1964 before it is someone I've heard of, read, and thought was good. Sarte declined the prize. I took the ferry from Copenhagen to Sweden with a friend once and I feel that qualifies me to state categorically that playing yourself on The Simpsons is definitely cooler. Rest in peace, John Updike.
Shortlink:
Posted by
Amelia G
on January 27, 2009. Filed under
Blue Blood
. You can follow any responses to this entry through the
RSS 2.0
. You can leave a response or trackback to this entry