If I Can't Have You, I Don't Want Nobody, Baby or It's Like Studio 57 Up in Here
How is it possible that a pop treacle show like American Idol can suck at disco? When collegiate-cutie-marketable-to-preteens Kris Allen did a slowed-down version of Donna Summer's "She Works Hard for the Money", I thought he totally owned it because Kris Allen is not a guy anyone would really see doing disco and the song was still enjoyable. I liked it the same way I liked Adam Lambert's industrial world music take on Ring of Fire. Only, ya know, less so. Because I really really liked Adam Lambert performing "Ring of Fire" and would listen to that again repeatedly on purpose. Unfortunately, almost all the American Idol contestants tonight failed to do disco. What is the point of having a theme, if nobody does anything which really fits it?
Then again, this is a show where they inexplicably added an actual judge who can confuse Saturday Night Fever aka the movie which made disco a phenomenon with NBC's successful comedy sketch show of the last three decades Saturday Night Live and the revered and legendary disco nightclub Studio 54 with Studio 57 aka the imaginary nightclub in her otherwise less-than-full head. (PS Dear Kara DioGuardi, the guy from Saturday Night Fever is actually John Travolta and Clark Kent is really Superman.) I understand that Kara DioGuardi is otherwise very accomplished and live television is very difficult, but I'd think American Idol judge would be as competitive a position as American Idol winner. I guess this just goes to remind us that not every American Idol winner has gone multi-platinum. Although I predict and hope the charismatic and talented Adam Lambert will.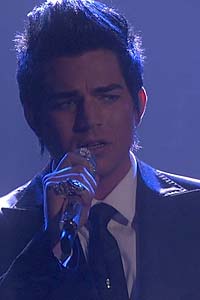 But this evening American Idol front-runner Adam Lambert performed a molasses-slow version of "If I Can't Have You, I Don't Want Nobody, Baby" for the American Idol Disco Night. I think Adam Lambert radiates star quality. I thought he looked fabulous in a sharp shiny black suit and white shirt, and I could even forgive the emo-hawk because it looked so effing good on him. I thought it was both classy and savvy that he thanked American Idol associate musical producer Michael Orland for helping with the arrangement. A man who will give credit to collaborators, while bringing that much to the table, is someone everyone will want to work with, and rightly so.
It is just that I thought the arrangement and performance of "If I Can't Have You, I Don't Want Nobody, Baby" was both smart and cynical. I liked Adam Lambert rocking the American Idol stage, never missing a beat as he danced across the whole space, performing Steppenwolf's "Born to Be Wild" last week. But it got lukewarm judge response. Ditto for Wild Cherry's "Play That Funky Music" with accompanying quality gyrations. Don't get me wrong. I loved when Adam Lambert did the very still and beautiful performance of Smokey Robinson's "Tracks of My Tears". But the whole alternating slow and fast performances thing just really falls flat when the theme is disco. Adam Lambert obviously has the chops to have done fantastic disco, so it just kinda sucked to see him not even take a stab at it.
Plus the song didn't really work performed that way. In the pre-song interview with host Ryan Seacrest, Adam Lambert said he was doing the song off the Saturday Night Fever soundtrack. I had thought "If I Can't Have You, I Don't Want Nobody, Baby" was a straight-up Bee Gees song, but the movie Saturday Night Fever received an R rating when it came out, largely for featuring a gang-bang sex scene and one use of the word "cunt". As a result, I was not allowed to see Saturday Night Fever as a child. I did, however, own the Bee Gees greatest hits double album. Many American Idol sites are listing "If I Can't Have You, I Don't Want Nobody Baby" as being by Yvonne Elliman. Although she did the first recording of the song, and her recording from the Bee Gees' Saturday Night Fever soundtrack absolutely did become a number one single, the Bee Gees actually wrote the song and later recorded it themselves as well.
Due to the wonder of the interwebs, I am listening to the Bee Gees while I write this. But I haven't been able to listen to the Bee Gees in a long time because I tossed their Greatest Hits album years ago in a spasm of cool. Mind you I still have Andy Gibb's Shadow Dancing on vinyl, although I haven't owned a record player in an equally long time. Worse yet, I possess fewer than a dozen vinyl records today. I even sold my vintage Runaways album to buy the CD version (and about a bazillion more CDs for what that was worth.) But I own two copies of Shadow Dancing because they are each scratched in different places. I thought it was gothic to like Andy Gibb because he poetically committed suicide, at a young age, over a woman, specifically actress/entrepreneur Victoria Principal. Unfortunately, Wikipedia informs me that Andy Gibb died "just five days after his 30th birthday as a result of myocarditis, an inflammation of the heart muscle due to a recent viral infection". Some opine that Andy Gibb's well-known prodigious drinking and cocaine usage could have contributed to myocarditis. Still dying of a broken heart; still goth. Plus, Wikipedia cites 2001 as the first release date of the Bee Gees Greatest Hits and, unless my parents shopped for me with an effing time machine, that is comedically inaccurate. 1979 would seem to be a bit more correct. The internet does inform me that Best of the Bee Gees Volume 1 was released in 1969, so maybe the Bee Gees are just immortal top 40 hit spawning vampire monsters, who can only be killed by a stake through the heart or losing the love of a good hard partying woman.
How embarrassing. I wouldn't have thought of myself as a disco person at all. I mean, at all. So, no videos tonight, just lyrics to point out why it was unnecessary to slow it down to make the Bee Gees song sound sappy enough and Donna Summer was not talking about hookers.
---
"If I Can't Have You, I Don't Want Nobody, Baby" lyrics by the brothers Gibb and originally sung by Yvonne Elliman:
Don't know why
I'm survivin' every lonely day
When there's got to be no chance for me
My life would end
And it doesn't matter how I cry
My tears, so far, are a waste of time
If I turn away
Am I strong enough to see it through?
Go crazy is what I will do
If I can't have you
I don't want nobody, baby
If I can't have you…uh-huh-huh, oh
If I can't have you
I don't want nobody, baby
If I can't have you…uh-hoh
Can't let go and it doesn't matter how I try
I gave it all so easily to you my love
To dreams that never will come true
Am I strong enough to see it through?
Go crazy is what I will do
If I can't have you
I don't want nobody, baby
If I can't have you…uh-huh, oh
If I can't have you
I don't want nobody, baby
If I can't have you…uh-hoh
If I can't have you
I don't want nobody, baby
If I can't have you…uh-huh, oh
If I can't have you
I don't want nobody, baby
If I can't have you…uh-hoh
Oh! If I can't have you…
---
Okay, I guess it is debatable and maybe "She Works Hard for the Money" is a song about prostitution, after all, so check out the words for yourself and tell me what you think. "She Works Hard for the Money" lyrics by Donna Summer and Michael Omartian and originally sung by Donna Summer:
She works hard for the money
So hard for it honey
She works hard for the money
So you better treat her right
She works hard for the money
So hard for it honey
She works hard for the money
So you better treat her right
Onetta there in the corner stand
And wonders where she is and
Its strange to her
Some people seem to have everything
Nine a.m. on the hour hand
And shes waiting for the bell
And shes looking real pretty
Just wait for her clientele
She works hard for the money
So hard for it honey
She works hard for the money
So you better treat her right
She works hard for the money
So hard for it honey
She works hard for the money
So you better treat her right
Twenty five years have
Come and gone
And she seen a lot of tears
Of the ones who come in
They really seem to need her there
Its a sacrifice working day to day
For little money just tips for pay
But its worth it all
Just to hear them say that they care
She works hard for the money
So hard for it honey
She works hard for the money
So you better treat her right
She already knows
Shes seen her bad times
She already knows
These are the good times
Shell never sell out
She never will
Not for a dollar bill
She works hard
She works hard for the money
So hard for it honey
She works hard for the money
So you better treat her right
She works hard for the money
So hard for it honey
She works hard for the money
So you better treat her right
She works hard for the money
So hard for it honey
She works hard for the money
So you better treat her right
Shortlink:
Posted by
Amelia G
on April 22, 2009. Filed under
Blue Blood
. You can follow any responses to this entry through the
RSS 2.0
. You can leave a response or trackback to this entry