Awesome Woody Harrelson Zombie Recognition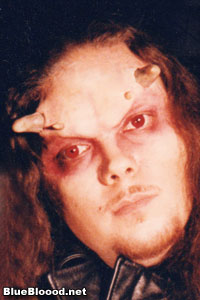 Have you ever felt you should get a pass for misbehaving because of your extensive zombie experience? Heck, we've all felt that way. But Woody Harrelson is doing something about it, with his tried and true Mistaken for a Zombie Gambit. Allow me to illustrate.
Forrest Black and I photographed special effects artist André Freitas (pictured) in his AFX Studios by Atlanta, Georgia for a feature in Skin Two. At the time, his most current project was developing a scary wrestler character. His most recent project has been makeup on the scary special effects for a movie called Zombieland. The movie is directed by Ruben Fleischer and written by Paul Wernick and Rhett Reese who previously worked together on the Joe Schmo show. Although Zombieland reportedly just wrapped filming, it is still technically in development, so the final cast list is still more rumor than confirmed. For sure, André Freitas' special makeup effect must have been really damn scary.
It is known that Woody Harrelson is in the Zombieland movie. According to IMDB, Woody Harrelson plays a character named Albuquerque. According to the Sony Pictures publicity department, Zombieland will not be in theaters until a Halloween-ready release of October 9, 2009, but they believe Woody Harrelson plays a character named Tallahassee. It seems a safe bet that Woody Harrelson is at least somewhat in a movie called Zombieland and does play a character named after a city. Based on posts on the director's site, principal photography for Zombieland took approximately two solid months and was completed the middle of this week.
According to Alan Duke reporting on CNN, Woody Harrelson finished shooting Zombieland on Wednesday in Atlanta, Georgia and he and his daughter landed at La Guardia Airport that night. I know that personally, if I had to make a list of times I would least like to be photographed, when I had just landed at an airport after working in Georgia would be very high on my list. Allegedly, Woody Harrelson broke a camera belonging to a photographer/videographer who was trying to film him and his daughter. After this alleged incident, the photographer went on to bust out a cell phone camera or some other smaller snapshot deal and shot more video of Woody Harrelson and his daughter. The photographer alleges that Woody Harrelson assaulted him in the ensuing scuffle. Although a police report was made, no charges against Woody Harrelson have been filed at this time.
Woody Harrelson did, however, issue a statement which I believe clears the whole thing up. The actor explained, "With my daughter at the airport I was startled by a paparazzo, who I quite understandably mistook for a zombie." Quite understandably. Mistook for a zombie. Could have happened to anyone.
CNN and others are reporting that Woody Harrelson plays "the most frightened person on Earth" in Zombieland. In point of fact, had any of them managed to check with Sony, they would have learned that Jesse Eisenberg plays the most frightened person on Earth in Zombieland. Jesse Eisenberg is perhaps best known for his role as Jimmy Myers in Wes Craven's Cursed, where he spent the movie trying to escape werewolves. Apparently there is something about Jesse Eisenberg which makes monsters want to chase him. Then again, CNN used the usually reliable IMDB as their source and IMDB reports Jess Eisenberg's character is named Flagstaff, while Sony Pictures publicity department calls him Columbus. Still, once again, both names are cities. Not that big a difference in a name.
The big difference is that Woody Harrelson's city-named character is actually the bad-ass in the movie. to be specific, the Sony Pictures press releases on the movie states, "Columbus (Jesse Eisenberg) has made a habit of running from what scares him. Tallahassee (Woody Harrelson) doesn't have fears. If he did, he'd kick their ever-living ass."
Given that anyone who has seen Natural Born Killers (which is everyone I know) can see what a convincing dangerous bad-ass Woody Harrelson is, I can only conclude that paparazzi don't get to the movies much. Or read magazines. Apparently there is something about Woody Harrelson which makes paparazzi want to chase him. Another paparazzo is currently suing Woody Harrelson for allegedly attacking him outside Hollywood nightclub Element in 2006. (Although it might have changed ownership since then, the last time Forrest Black went to this particular venue, he complained of having to endure watching a performer flog a balloon, as opposed to a hot girl. But I digress.) At any rate, Woody Harrelson has made it clear that, like anyone, he does not love having strangers up in his face with cameras at all sorts of annoying times. Unlike just anyone, he has already made it clear that he is prepared to defend his privacy strenuously. Unlike just anyone, he is also the son of a man serving multiple life sentences for contract killing a Federal judge. Does a famous actor have to actually kill a paparazzo in self-defense before people back off?
Even if common decency fails to stop paparazzi from non-consensually photographing Woody Harrelson, you'd think common sense might kick in. As I don't even like to lift a camera to my eye until a model release is signed, the whole paparazzi phenomenon really kinda baffles me. I don't think harassing a man, when he is exhausted from gainful employment and travel in service of same, is what the founding fathers had in mind when they guaranteed us freedom of the press. There are areas of scandal where I feel the newsworthiness of a public figure is relevant, but I don't get what is newsworthy about what an actor's daughter looks like after a plane trip. Then again, Woody Harrelson is an activist for marijuana legalization, so maybe this will make the press take up his cause in the hopes that he will become a little more chill.
The real good that will come out of this unfortunate incident, however, is that, from now on, I am going to excuse all hostile behavior by explaining that I was startled by someone who I quite understandably mistook for a zombie.
Shortlink:
Posted by
Amelia G
on April 11, 2009. Filed under
Blue Blood
. You can follow any responses to this entry through the
RSS 2.0
. You can leave a response or trackback to this entry