A Change is Gonna Come at The Zodiac Show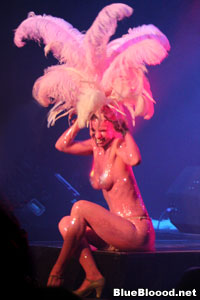 The Zodiac Show just relaunched their brand spanking new web site with stylish Flash design. The Zodiac Show is a interdisciplinary performance showcase which grew out of underground parties at Los Angeles photographer Lee Cherry's studio. Thus Lee Cherry and performer Carmit Bachar turned the Zodiac Party into The Zodiac Show.
Because Adam Lambert performed at The Zodiac Show, the event has been in the news on MTV and FOX Extra. An interesting trivia point is that, for tonight's American Idol finale, producer Simon Fuller chose a song for each contestant. Simon Fuller selected Sam Cooke's Civil Rights anthem "A Change Is Gonna Come" for Adam Lambert. "A Change Is Gonna Come" is one of the most-covered songs in American pop music history. Most recently, hard rock's Jon Bon Jovi and soul's Bettye LaVette performed the sing for the Obama Inauguration concert. Adam Lambert performed "A Change Is Gonna Come" to many kudos at The Zodiac Show back in 2004.
At any rate, The Zodiac Show has a nice looking new web site. Given that my first glance through showed a pic or two Forrest Black and I shot on there, I hope they add a link to BlueBlood.net once they get the site more fleshed out. Designer Rusty Segars is a wiz with the Flash and the Zodiac performances are over the top, so it is worth checking out. In honor of the launch, we've posted a little gallery of Zodiac Show performance photos we shot while working on a magazine feature about The Zodiac Show. Studio and location work is more our thing than straight-up event shots, but they are kind of fun and give some of the feel of the event. You can also check out the video below of Adam Lambert's previously lauded performance of "A Change Is Gonna Come".
A Change Is Gonna Come lyrics by Sam Cooke:
I was born by the river in a little tent
Oh and just like the river i've been running ever since
It's been a long, a long time coming
But i know a change gonna come, oh yes it will
It's been too hard living but i'm afraid to die
Cause i don't know what's up there beyond the sky
It's been a long, a long time coming
But i know a change gonna come, oh yes it will
I go to the movie and i go downtown
Somebody keep telling me don't hang around
It's been a long, a long time coming
But i know a change gonna come, oh yes it will
Then i go to my brother
And i say brother help me please
But he winds up knocking me
Back down on my knees
Ohhhhhh…
There been times that i thought i couldn't last for long
But now i think i'm able to carry on
It's been a long, a long time coming
But i know a change gonna come, oh yes it will
Shortlink:
Posted by
Amelia G
on May 20, 2009. Filed under
Blue Blood
. You can follow any responses to this entry through the
RSS 2.0
. You can leave a response or trackback to this entry