Adam Lambert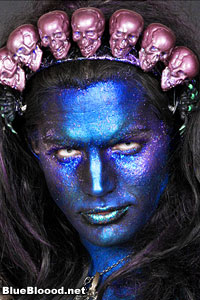 Last week, I started seeing all kinds of links in to Blue Blood from American Idol sites. As I have not been watching American Idol this season and have never covered American Idol on this site before, this seemed peculiar until we started receiving emails with subjects like Adam Lambert Nude, Adam Lambert Gay Kiss, Where can I find naked pics of Adam Lambert? and suchlike. Actually, this still seemed a bit peculiar until People Magazine got in touch with us and emailed us the photos we shot which everyone was talking about.
Now, of course I recall Forrest Black and yours truly shooting American Idol finalist contestant Adam Lambert. He is pretty memorable. I have also photographed guys before. Naked guys even. This does not mean that every single person, out of the thousands I have ever pointed a camera at, has stripped down at some point in the shooting process. In case this is not already blindingly clear, allow me to state categorically that we photographed Adam Lambert and Cheeks at a costume event sponsored by Blue Blood and promoted by Xian. Everybody at the event was clothed and most were even costumed. There was nothing scandalous about Adam Lambert being dressed up glam; he looked great and it was a costume party. So, no, I do not have any naughtier pictures than the portraits in this Adam Lambert gallery.
To all the ignorant prudes who hide their own bigotry behind platitudes about what "other" people in "flyover states" will think, I don't think a few sexy images have exactly hurt the careers of any modern (like post invention of photography) musicians. Anybody heard of David Bowie, Keith Richards, Marilyn Manson, Twiggy, Madonna, Deborah Harry, Slash, Jeff Beck, Lily Allen, Katy Perry, Tommy Lee, Siouxsie Sioux, Steve Jones, Zack de la Rocha, Tom Morello, Jared Louche, Eddie Vedder, Dave Navarro, Flea, or Anthony Kiedis? These are all performers who have been immortalized on camera either nude or kissing someone of the same gender or, in most cases, both. Do any of these smug I-am-open-minded-but-what-about-the-middle-America-frauen people seriously think that nobody from say Iowa ever bought an album by the Rolling Stones, Motley Crue, Pearl Jam, Rage Against the Machine, or the Red Hot Chili Peppers?
Discussing the existence of photos of Adam Lambert kissing, Access Hollywood Dish of Salt interviewer "Laura [Saltzman] mentioned she had never been [to Burning man], Adam gave her a wicked little smile and said, "We are going to the Burning Man– I might kiss you too!"" Additionally, in the interview, Adam Lambert said, "You know what, I have nothing to hide. I am who I am. And this is about singing… nothing else." So he can sing, he's gorgeous, he has remarkably impressive presence, and he owns who he is and makes no apologies. I like that and I hope everyone reading this likes those traits in a person too.
Last week, the American Idol Judges had the following comments on Adam Lambert's performance of "Black or White" (The theme of the episode was Michael Jackson.): Man-in-charge Simon Cowell said, "That was in a totally different league than everyone else." Performer Paula Abdul said, "You've got the whole package going on." Producer Randy Jackson said, "You could make a record right now and it would sail right to the top." And the new judge songwriter Kara DioGuardi said, "I hope Michael Jackson was watching you tonight." So I kind of think the good guy has a good chance of winning, having what it takes to be a star and deserving it and all.
If you happen to feel like tuning in to American Idol tonight, it would be awesome if some of the tens of thousands of people who read BlueBlood.net could cast some votes for Adam Lambert. Tune in Tuesdays 8pm/7pm central and Wednesdays 9pm/8pm central on FOX.
Shortlink:
Posted by
Amelia G
on March 17, 2009. Filed under
Blue Blood
. You can follow any responses to this entry through the
RSS 2.0
. You can leave a response or trackback to this entry