Adam Lambert in Rolling Stone and Star Magazine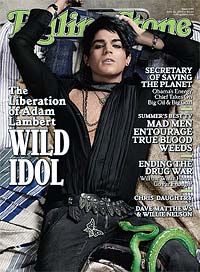 People keep asking me why I haven't mentioned that Forrest Black and I have some of our photography of American Idol runner-up Adam Lambert in the current issues of Star Magazine and Rolling Stone, so I suppose I'll mention it now. The internet has been abuzz for weeks now that Adam Lambert was going to "come out" in Rolling Stone issue 1081. So many publications were reporting that Rolling Stone was going to report that Adam Lambert says he is gay that Rolling Stone had to rush to put the digital image of the cover, lensed by brilliant top photographer Matthew Rolston, online well before the issue hit newsstands. Which seems very meta-something.
For some reason, a number of folks desperately wanted to be the primary source for settling speculation on Adam Lambert's sexual orientation. Forrest Black and I photographed Adam Lambert kissing Brad "Cheeks" Bell. In point of fact, all of the supposedly scandalous images of Adam Lambert kissing a male were of him kissing the same guy, Brad "Cheeks" Bell. However, as many fans seems to find boy/boy smooching inconclusive and seemed to perhaps care about orientation, I didn't want any part of anything which might hurt Adam Lambert's chances of winning American Idol. I heart Alex Burton, my editor at Star Magazine, because the deal he and I made for the first round of images he ran was that there would be no outing of Adam Lambert in the issue and Alex Burton, my man of the Led Zeppelin tattoo, kept his word and kept the article classy and positive. Word is that Star Magazine offered Brad "Cheeks" Bell $2,000 to tell all and Cheeks declined, saying that he'd turned down higher dollar offers than that and he would only ever do a positive interview about Adam Lambert.
Unsubstantiated rumor is that Rolling Stone ponied up $50,000 for Adam Lambert to tell them his sexual preference first. Rolling Stone contributing editor Vanessa Grigoriadis, my fellow Wesleyan University alum, did a great job presenting Adam Lambert as a whole interesting person with visceral prose and probing but respectful questions. In the interview, Adam Lambert tells Vanessa Grigoriadis that he waited to come out in Rolling Stone because he felt he could express himself in context there. Some of the context, however, is that he didn't lose his virginity (presumably to a man) until he was twenty-one and that he'd made out with girls while drunk at nightclubs and was now somewhat bi-curious about what it would be like to have sex with a woman.
Rolling Stone has always had some of the best, most incisive and most intriguing interviews of any magazine (and of course Wesleyan grads tend to be terrific writers), so it is no surprise this is a good one. But I'm left uncomfortable that the issue of a sexual label was such a big deal. I feel like we don't have enough words to describe sexual orientation for the terms gay and straight to have much meaning.
If Adam Lambert suddenly got a girlfriend, after years of going out with the same sex, would that mean he did not count as gay any more? How about if he just occasionally fooled with really inspiring women who really got him as a person, but only had relationships with men? I realize that I travel in circles which are perhaps a bit ahead of the curve on sexual openness. But I know men who are gay-identified who sleep with women from time to time. I know women who are bi-identified who only have relationships with men but also have sex with women. I know men who are straight-identified who will have sex with men provided there is a sexual configuration of enough people for it to count as an orgy. Everyone can think of the prison example for same sex relationships among people who do not identify as gay or lesbian. Etc. I think that maybe 10% of the population is strongly hardwired to enjoy only the same gender and maybe 10% of the population is strongly hardwired to enjoy only the opposite sex. But most people, in the right situation, are more fluid than that. They might have a preference, even a strong preference, but, in the right situation, the preference won't dictate their actions.
At any rate, I feel most human sexuality is too complex for a tidy label to be genuinely descriptive. I thought it was cool that Adam Lambert told Vanessa Grigoriadis and Rolling Stone, "I loved it that this season girls went crazy for me . . . As far as I'm concerned, it's all hot. Just because I'm not sticking it in there doesn't mean that I don't find it beautiful." There is a certain combination of flamboyance and rawness there which is the reason so many of my friends were rooting for Adam Lambert on American Idol.
And it is a flamboyance and rawness which utterly transcends sexual orientation. I think that general America is far more afraid of that rock star counterculture essence than they are of male homosexuality. Senior Blue Blood writer Will Judy made the excellent point that, although Adam Lambert was runner-up to Kris Allen, rather than winner, on American Idol, "Lambert got to live my ultimate superdream from 5th grade though. Fronted Kiss AND Queen in the same night. (And KILLED, of course)" which is a really fine summation.
Shortlink:
Posted by
Amelia G
on June 20, 2009. Filed under
Blue Blood
. You can follow any responses to this entry through the
RSS 2.0
. You can leave a response or trackback to this entry