True Blood – At Last
I was re-watching The Avengers this weekend and it occurs to me that Stellan Skarsgård is batting 500 when it comes to attractive offspring. He himself is looking a bit like Gollum these days, tho back in the day he did have a striking resemblance to Alexander, our beloved Eric Northman. Bill, however, star of Hemlock Grove, which I don't recommend you watching under ANY circumstance, is one weird looking mutherfucker. He kind of looks like a murloc, at least to me.
Anyway, back to the task at hand. So turns out Ben is a vampire? He gives Jason some blood when he gets tattered which makes Jason back into his obnoxious self. AAAAAAHAHAHA Jason has a super gay dream about Ben in what may be the funniest moment of the season so far. Now Ben is a vamp-fairy? UUUUUUUGGGGGHHHHH.


"EMMA GOT TOOK!" Nice one Alcide, you're a goddamn moron.
Andy's fairy kids are like 20 now. And skanks. Jessica makes friends so that Bill can take some blood to his also kidnapped Japanese scientist. That plan doesn't appear to be working as fairy blood blah blah blah blah.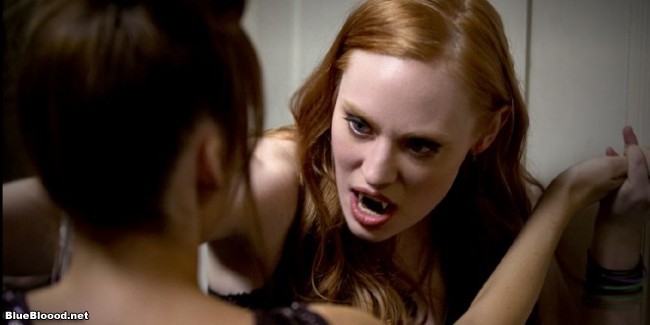 What's happening? Why is Eric getting in a grave with the Governor's daughter? Why is he still wearing pants? To turn her into a vamp. Okay, kinda hot? And then he just shoves her out of the coffin? You gotta give her the cliff notes on how to be a vampire if you want this to work.
And then Sam takes his pants off again. Man, I'm tired of seeing his ass! Down with Sam! Up with Eric!
Can we talk about Rutger Hauer's hair for a second? I appreciate that he's a great actor and can do whatever the hell he wants, but that Phil Spector hair is killing me.
Dude, Sookie's tits look pretty good for having twins. I wonder what her secret is. Balms, massage, cabbage leaves?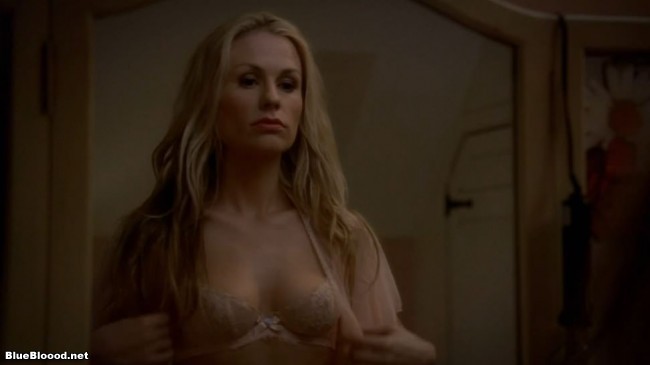 Good job Tara, run away just as Pam gets shot by vamp hunters. Yer a turd.
Wait, Ben is Warlow? And he's British now? Or his accent slipped? Or I wasn't paying attention. Well. Whatever.
Shortlink:
Posted by
Raygun Robyn
on July 8, 2013. Filed under
Headline
. You can follow any responses to this entry through the
RSS 2.0
. You can leave a response or trackback to this entry