Voluptuous Life Release Party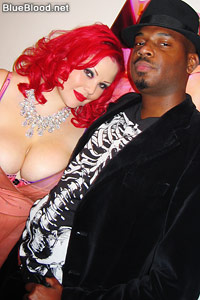 I just had a bit of a DC/Baltimore flashback weekend. Photographer Carlos Batts planned to do a gallery show/video release party at the combined studio locations of Federico Zignani and Apollo Starr. Normally such an event would be on my calendar in pen, but the damn date of this particular shindig kept changing. And then seminal DC industrial band Chemlab was playing the Knitting Factory. Due to the requirements of Murphy's Law, both events were the same night.
Being the plucky Los Angeles denizen that I am, I managed to hit the Chemlab show, the Carlos Batts party, and the cool hot dog stand. (Yes, in LA, we have hot dog stands ranked by factors like cool and celeb client list.) Afterwards, Forrest Black and I took Carlos Batts and his gigantic entourage home in my limo. Passersby never can be sure how many people are behind tinted black glass and Carlos was all plotting mischief we could get into.
Anyway, in addition to his coffee table books and lots of other accomplishments, the fabulous Carlos Batts has shot a whole lot of erotic photo sets currently on BlueBlood.com and you should expect to see a whole lot more from him there. He has just released a video, two years in the making, starring April Flores, called Voluptuous Life and you should expect to see more about that here as well. Interview about the release party and gallery show now:
Amelia G: What was the special printing process for the images displayed on the wall?
Carlos Batts: The images on the wall were R prints mounted on sentra.
AG: What made you decide to do your party at that location?
CB: I shoot a lot of my commercial work there including fashion ads and music videos. The owner of the studio has parties there and is a good friend.
AG: The date of the party kept moving around; what was up with that?
CB: We were trying to plan around the holidays to make it work for everyone.
AG: Where did you and April Flores get your fabulous premiere outfits?
CB: We got them from our good friend Oskar de la Cruz's store Luxe de Ville. It's this really great store on Sunset in Echo Park. Oskar styles us for all our major events.
AG: How many people do you think it would be possible to fit it a limo and who would you most like to surprise with an angry mob exiting one?
CB: I think 20 people could squeeze into a limo and I would have to say I would want to surprise George Bush with the angry mob.
Shortlink:
Posted by
Amelia G
on December 11, 2007. Filed under
Blue Blood
. You can follow any responses to this entry through the
RSS 2.0
. You can leave a response or trackback to this entry