Zack and Miri Make a Censored
Years ago, when Kevin Smith and I were both guests at DragonCon, he and I had a brief conversation about porn. Now that his Zack and Miri Make a Porno movie hits theaters this Halloween, I wish I remembered any of the details of it. As I recall, Senior Blue Blood writer Will Judy was there, but I don't think it wise to interrupt his regularly scheduled obsessive Sunday puttering to check if anything important was said.
When DragonCon gave Blue Blood a ballroom for a panel, I had to have a team of people check ID at the door to make sure our standing room only crowd was all of age. It kind of sucked, but it was necessary. I've spoken on many panels where we did not discuss adult topics and I've spoken on many panels which did not include visual aids and I've spoken on many panels which were not in Georgia. But this particular DragonCon panel did have those stats and it just made sense to be sure the entire audience was of age. Would more than two thousand people have come to hear what Forrest Black, Sarah McKinley Oakes, and I had to say, if there had been no naughty aspect planned for this particular presentation? Probably not.
In some respect the adage about sex selling is true, but the part no one mentions with this is that distribution is a bitch. It would be nice if there were better distribution channels for actual quality products, with serious budgets, which tackle sexually-oriented topics. Even IFC will put a giant black box covering up John Leguziamo's sock-clad cock when they run the movie Spun. The best thing about the internet is that I can sell a BlueBlood.com Blue Blood VIP membership without having to go through the same sort of stodgy distro channels as I did with Blue Blood magazine in print. Not that Google does not still make it harder to find adult sites than non-adult sites by penalizing adult sites in the SERPS. It was relatively easy to get a magazine featuring naked people into adult newsstands, but Blue Blood's audience was shopping the music and zine shelves. The main ways I addressed this were by having no nudity on the cover of Blue Blood magazine, trading ads with zines, and buying ads in magazines like SPIN and Rolling Stone. The ads made clear what someone would be buying, without presenting any material which could be objectionable. I don't think artists should be limited in what they can create and express, but I do think it should be clear to people what they are getting into before they have to see something they do not want to. Mind you, there were zines like Carpe Noctem (which featured horror nudity and sold to an all ages audience) who would either take my ad money or my barter and then not come through with what they owed, citing their concern with the erotic nature of Blue Blood.
I still have dimwits trying to claim that BlueBlood.net must be a porn site because BlueBlood.com (a different site on a whole different domain) features erotica. There are people who think that, because I sometimes come across naked people in my professional life, somehow everything Forrest Black and I shoot features models who are secretly naked underneath their clothes. Doesn't matter what the actual topic or venue is. Heck, there are people who think that, because I sometimes come across naked people in my professional life, I must owe them sex, if I want to be their friend. There really is such a thing as an appropriate place to do certain things and an inappropriate one and I'm capable of being appropriate, thanks.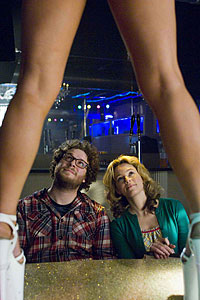 So Kevin Smith will indubitably get some bonus viral marketing from doing his Zack and Miri Make a Porno movie, but he will also indubitably run into some of the same distro and advertising difficulties that anyone with a sexually-oriented product is going to run into. Zack and Miri Make a Porno, however, is advertised on the sides of buses, but I have not seen one single solitary advert for it on an actual adult site where the ad would have had to have content besides whining that they couldn't show their titillating content there. Whining about titillation is pretty much the ad campaign for Kevin Smith's new flick. Now obviously Kevin Smith is about a gajillion times more talented and cool than that knob who the MPAA spanked for putting the nicely lit torture porn on the Captivity billboards a while back. But I could get really sick of people who think they are "mainstream", whatever the eff they think mainstream is, who whine that they can't put porn on billboards. Obviously, I think it is just fine that media is created which features human sexuality. I even prefer it when people make quality media about such topics.
Is Kevin Smith seriously waging an ad campaign about how unfair it is that, in a few markets, somebody had the sense to forbid him from writing PORNO in giant billboard letters in public places? Yes. What is wrong with him? This is exactly the kind of irresponsible nonsense which opens the door for real censorship. I believe that nobody should stop Kevin Smith from making a movie about any topic he pleases. I do, however, believe that the viewing public should have a choice in whether or not they see the movie or are exposed to its content. Should anyone really have to have their kid say, "Mommy, what's a porno?" while shopping in a regular neighborhood?
I personally love cussing. I loathe puns, unless they are porno puns, and then I think they are just dandy. I love the trash talk in Kevin Smith movies. Kevin Smith is a genius with foul-mouthed realistic dialog. Despite making Jersey Girl, a movie about how awesome it is if your wife dies and your family undermines you, Kevin Smith is still one of my favorite writer/directors of all time, albeit no longer one whose work I have to see the second it hits the screen. Chasing Amy was brilliant. I even enjoyed Mallrats.
Kevin Smith's first Clerks film is in my top favorite movies of all time. The scene where Randall is on the phone ordering appalling ass video titles in front of a mother looking for something about a scrappy happy something or other pup is hilarious. At the time that movie came out, I and many of my friends were somewhat underemployed in various awful jobs, many of which involved retail. So Clerks really spoke to us extra. Nonetheless, if one of my Mr. Unstable pals got fired from a job for yelling the names of porn vids in front of a suburban mom and her kid, I might have thought it was funny, but I would not have thought they were right.
Freedom of speech gives you the right to express yourself, but it is not supposed to give you the right to yell "porno" in a crowded public place.
PS If Jason Mewes does full-frontal nudity, it will be fine to put that on billboards all over my neighborhood. I mean, I live in Hollywood, so it is all degenerates who want to see that here anyway.
Shortlink:
Posted by
Amelia G
on October 19, 2008. Filed under
Blue Blood
. You can follow any responses to this entry through the
RSS 2.0
. You can leave a response or trackback to this entry