BlueBlood VIP Site Passes 100k Photos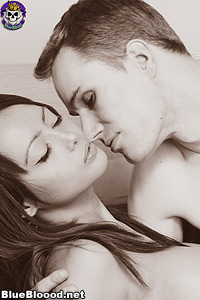 The BlueBlood VIP just passed one hundred thousand images with a series Forrest Black and I shot of an OG Blue Blood hottie from the magazine days. Blue Blood began in print sixteen years ago in the suburbs of Washington, DC, in the basement of a Maryland punk rock group house called New Cambodia.
I had previously done the BLT ::: Black Leather Times antisocial punk humor zine in a Virginia punk rock group house called Cambodia and I was ready to do something glossier and with more reach than BLT's 2,000 copy print run and mostly local circulation. I don't think I realized how much I was biting off or that it would eventually take a whole two car garage to house all the Blue Blood subscription magazines for any given issue while a pizza party of my friends feverishly stuffed envelopes and boxes in our unfurnished living room. Perhaps I had faith that Blue Blood would get the attention is has in press from everyone from The New York Times, Penthouse, and Draculina to HBO, FOX, and MTV. But I certainly could not have expected the audience of tens of millions of people the internet has brought.
It was extra meaningful to me and Forrest Black to have OG magazine covergirl Cherry Jason and her real life lover Ledgrey featured in the brand new series which took BlueBlood.com over the 100k mark. That is a whole lot of beautiful on-topic images, by a lot of creative photographers, shooting a lot of flamboyant people. I naturally still have a lot of friends in the DC area and generally get back mostly for weddings and similar occasions, but it's also fun to check out how the club portion of the DC scene Blue Blood came out of is doing. This time out, Forrest Black and I went clubbing with Cherry and Ledgrey and pals and shot them over at their place.
Cherry is a dancer and Ledgrey is a banker and their place is in pretty much the most perfect, sought-after, convenient location in all of Washington, DC. Cherry and Ledgrey have such a wonderful energy, so we ended up with a bit of a gothic punk From Here to Eternity vibe in this series and the overall feel is just what we all wanted it to be.
Of course, although we have a safe for work free photo gallery of Cherry and Ledgrey on BlueBlood.net, you'll have to head over to BlueBlood.com and pony up a few bucks to see the naughty bits.
The original Blue Blood magazine in print always opened with an entertainment section where we covered music, events, books, and all sorts of cool stuff. Pretty much like BlueBlood.net. Then there would be a number of short stories from big name genre fiction authors and a number of photo sets featuring exclusively real life couples doing what they would genuinely do whether or not there was a camera there. Now that we have digital cameras and the internet, the world is a different place and so we've added solo hottie sets to the mix, but, where BlueBlood.net is the digital incarnation of the magazine's entertainment section, the hot stuff which made up the rest of the magazine resides on BlueBlood.com now in the VIP section. This way each sort of content is in its proper place to be viewed most conveniently.
Although naturally the history is important for a brand founded in 1992 like Blue Blood, let me break it down with a bit less history. BlueBlood.com features more than 100,000 erotic photos, including our world famous signature couples sets, and erotic fiction by some of the best genre writers in the world. BlueBlood.net features nightlife galleries, babe galleries, social critique, music videos, interviews with interesting people, book reviews, movie tidbits, comics info, television news, and entertainment journalism in general. To break it down even more simply:
BlueBlood.NET = SFW entertainment site
BlueBlood.COM = NSFW erotic site
BlueBlood.net and BlueBlood.com are intended for the same sorts of intelligent, independent thinkers, who enjoy the road less traveled, with lifestyles which are flamboyant, offbeat, and beyond the average person's experience. Blue Blood in print used to be called The Trade Mag of Cool because Blue Blood's audience is unusual, made up of tastemakers, the first in each of their respective scenes to know about and share new things, people who are just going to be more cool and creative than the norm.
One of the times it first became really apparent to me that a Blue Blood audience is really above and beyond, we were hanging out in New Orleans and I offered comp copies of the magazine to someone who worked for Trent Reznor of Nine Inch Nails. NIN's album Pretty Hate Machine pretty much changed my life, so I was jazzed at the idea of passing along my work to someone like that. His assistant was all excited, but, when he looked at the cover, he was like, oh, Trent already has that issue.
After sixteen years, it is more difficult to get a rise out of me. I know a lot of rockstars and, at this point, I am often reluctant to interact in any way whatsoever with anyone whose work I love. My fear is that a negative personal interaction with the artist will reduce my pleasure in the art. At Blue Blood, we approach our shoots, especially our couples shoots, as a very collaborative process, so there is a lot of discussion of what will be shown. I remember the first time Forrest Black and I worked with Cherry Jason in the 90's, she totally made us both blush. Shooting her this time, if anything, it was the other way around.
Sixteen years is a long time. Sometimes I rail against the things in the world which I either can't change or haven't changed yet. But I'm awfully happy with where Blue Blood is at sweet sixteen. As a big William Gibson fan, perhaps I could have imagined in 1992 what Blue Blood would look like in 2009, but I can't say that I did. The plan was pretty much do a bunch of cool art projects for the community and wait for new technology to be invented to make the whole thing viable.
Sixteen years. Dozens of Blue Blood parties. Hundreds of stories. Thousands of articles. Tens of millions of readers. Getting to meet and work with so many cool people in so many walks of life. And now over one hundred thousand images in the BlueBlood VIP! Not that I didn't work and sacrifice for it, but, on a good day, I am truly humbled and grateful for getting to have the life I have had so far. And today is a good day.
Shortlink:
Posted by
Amelia G
on April 19, 2009. Filed under
Blue Blood
. You can follow any responses to this entry through the
RSS 2.0
. You can leave a response or trackback to this entry