Eminem Should Pistol Whip More People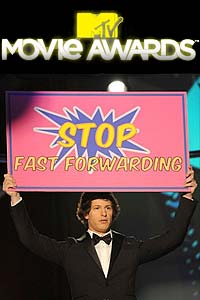 When I heard Saturday Night Live's Andy Samberg was hosting the MTV Movie Awards, I thought for a split second about whether they would be worth seeing. Hot Rod was an unwatchable mess of a movie, but Andy Samberg brought us Dick in a Box, Natalie Portman Rap, I'm On A Boat, and more awesomeness. My brother went one year and reported it was unutterably dull, but staying home and TiVo can assist with that. But I only really thought about even TiVoing it for a split second. I suspect Eminem, who walked out of the proceedings, wishes he had not even TiVoed it as well.
I wondered what remotely cool or remotely music-related movies even came out last year, besides Twilight? From all reports, the only notable events of the MTV Movie Awards evening were the premiere screening of the Twilight New Moon Trailer (which we'll have for you here in a moment) and that grody Sacha Baron Cohen creep being dropped on Eminem. Basically Sacha Baron Cohen put on this white outfit which riffs unoriginally on the already satirical White Gold heavy metal milk commercials and shows his ass (which ranks lower than Fred Durst's ass on the List of Asses Nobody Wants to See) and MTV flew him over the audience on a wire and dropped him in Eminem's lap, crotch up. If multiplatinum rapper and movie star Eminem, who has the best gothic video on MTV right now, ups the MTV Movie Awards star quotient by gracing them with his presence, how disrespectful and unappreciative is it to stick an unappealing stranger's tiny groin in his face?
If you don't know who Sacha Baron Cohen is, count yourself fortunate, but he is basically this disingenuous pseudo-comedian who never owns his own stupid presentation. Sacha Baron Cohen always pretends that he is just playing a character, but most of his characters are exaggerations of someone trying pathetically hard to be cool. The ego protection Sacha Baron Cohen is engaging in there is so obvious, just in case someone notices that he is not cool at all, that I find him painful to watch under the best of circumstances.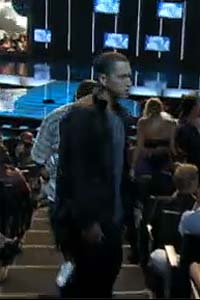 I guess one could argue that Eminem plays spoof characters in some of his videos, but I feel that is deeply different because one has a sense that sometimes Eminem is clowning around and sometimes he is being raw and real. And nobody would greenlight flying Eminem over the MTV Movie Awards audience and dropping him in Bret Michaels' lap, crotch up.
It is now the morning after and Twilight unsurprisingly swept the MTV Movie Awards with standard award show fare like Best Movie and MTV special awards like Best Fight Scene. So Robert Pattinson who played vampire leading man Edward Cullen, Kristen Stewart who played viewpoint character Bella Swan, and Cam Gigandet who played bad boy vampire James all spent a lot of time clutching boxes of gold popcorn on stage. Apparently the other music-related movie worthy of MTV consideration was High School Musical 3: Senior Year which starred Zac Efron. Zac Efron is nice-looking enough and I saw him host SNL and so I can't say whether High School Musical 3: Senior Year was robbed when Zac Efron lost in the Best Kiss category he was nominated in which was won by Kristen Stewart and Robert Pattinson from Twilight. I'm not sure what Zac Efron did win, as even the clips from the MTV Movie Awards show this year are kinda unwatchable and IMDB shows no 2009 wins, but, when he was called to the stage by Sacha Baron Cohen, who was apparently a presenter, poor Zac Efron, being put on the spot, looked like he wanted no part of it and was considering following Eminem out of the building. Edit: MTV reports that, although most viewers missed it in the hubbub, Zac Efron won for Best Male Performance (as opposed to Robert Pattinson's win for Best Breakthrough Performance Male Winner.)
I'm going to get on posting that Twilight New Moon trailer now, but, seriously, I think Eminem should get a Get Out of Jail Free card for pistol-whipping Sacha Baron Cohen any time he feels like it. Ideally without warning and in the (tiny) crotch area.
Some pundits are suggesting today that Eminem was not really annoyed and just acted angry as part of the gag. If Eminem was not actually disgusted, then he deserves an Oscar or at least an MTV Movie Award for his convincing performance.
Shortlink:
Posted by
Amelia G
on June 1, 2009. Filed under
Blue Blood
. You can follow any responses to this entry through the
RSS 2.0
. You can leave a response or trackback to this entry