Game of Thrones, Episode 207: A Man Without Honor, or Topping from the Bottom is an Art
Tonight's refreshments are: Dubhe Imperial Black IPA, from Colorado's Uinta Brewery, and our old nemesis the Old Weller 107. If you like your beer sweet, malty, hoppy, death-black and unpronounceable, try the Dubhe. If you feel like a bottle of Bourbon that your uncle William took more than a week to put a dent in, take your best shot at Old Weller.
This week's episode of Game of Thrones opens as Odious Theon wakes to a Tonksless bed and the news that his only leverage has gone walkies. He reacts like a leader, by stomping the insolence out of an underling and hopping on his horsey. It's all just a game.
And meanwhile in Ireland, the dire wolves are taking point as Tonks, Hagrid, Frodo and Pippin fuss over second breakfast. Stop walking so fucking slow.
Off to CGIceland with poor, shy Jon Snow and his ginger on a string. Ygritte has him by the stones and bones. Yes, she's his prisoner, thanks for the stupid pedantry. But she knows he's lost, horny, out of his depth and miles from home or help. All she has to do is keep him off balance. And he knows this and keeps walking on into the snow.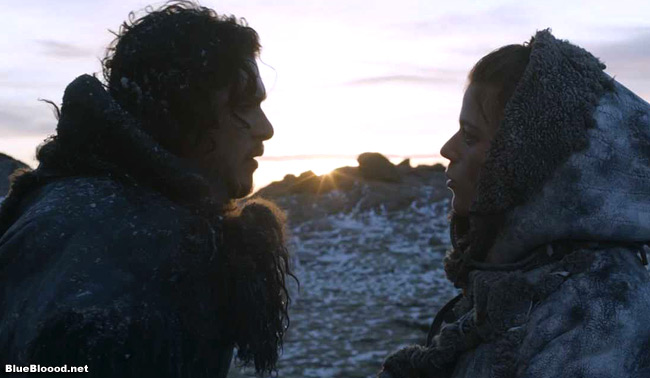 And there's a pile of bodies and torture in progress, so it must be Harrenhal. The brotherhood without banners? I'm with Tywin on this one, that's some pretentious shit. But asymmetric warfare is all about perception.
Lord Tywin clearly needs some mates to chat with. As it is, he's got AKA Arya, who's decent company, anyhow, even when she's looking for a sweet spot on the back of his neck for a dinner knife. And he has her number.
The Hound has it so bad for Sansa. Watch him lose his shit when she shows him kindness. Watch him offer protection even as he pushes her away.
Quick visit to Qarth, where Xaro insists he has a dog in this fight, and oh boy is Dany a little shit.
Ygritte is a pain, but she is selling Jon the dream of the 90s. Sleep in, live easy, beat girls off with a stick, I'll show you the ropes. Jon is looking for silhouettes on the ridgeline, but he can't keep his eyes off her.
Ser Alton has the worst gig in this whole mess. He has nothing to gain from any of this, and he's stuck being an errand boy at spearpoint. Robb is making an effort here, trying to be honorable if not kind. Meanwhile Lord Flaymate and Lord Dogfoodhands are standing around reminding us that prisoners are a luxury in warfare.
And we have a dull exchange about supply closet restocking as Robb and Nurse eyefuck each other gutless. No idea where this is going.
And Theon is getting his odious on all over here. And his eyes are too far apart. It's better to be cruel than weak? You can always be both.
Back in fucking Qarth, Dany is slowly getting the notion that she's fucked and her dreams are idiocies.
And more dreary sexual bullying from Ygritte, who's really taking her time leading Jon to slaughter. Aaaaaaand there it is, oh FINALLY. There are those silhouettes on the ridgeline you were looking for, you silly, silly bastard.
Sansa's PTSD is PMS now. And Shae is suddenly worth a damn, and the Hound is a rat. And Cersei with the hard truths all in a row. Poor Sansa, with her cramps and her dead, prisoner's eyes, absorbing the horror.
And Ser Alton is a starstruck lad. And Jaime plays the star, practicing his smirking cruelty, gaining his cousin's trust, bringing him closer, confiding truths that he knows will go no further. Because, much like the Hound, Jaime loves killing.
Back again in fucking Qarth, Ser Jorah is hitting the spa for some kind of all-inclusive vacation package bullshit. Or he's looking for dragons. I don't care, those are some big, dark eyes behind that mask.
Dany is singing for her supper again with the short-fingered fucks of the 13, with no backup but Xaro and the bass player for Thin Lizzy. Of course this all turns out to be some deranged power-grab by Xaro and the Fucking Guild Navigators.
And suddenly we're in the Overlook Hotel. Lovely party, isn't it?
Jaime's a shit prisoner, but he's a worse fugitive. And the list of people who are sick of his shit grows and grows.
Back at King's Landing, a bit more worthless pedantry, and Cersei needs someone to talk to as well. And by god Tyrion doesn't know where to look when he genuinely pities his sister.
And Lady Cat lines up for more sexual bullying from filthy, blood-crusted Jaime, who is getting his last hits in, knowing he's got nothing to lose, and wanting to die in some sort of battle, even in chains.
And oh. holy. balls. Odious Theon, you have fucked yourself so hard.
OK, briefly, what do we take away here? Power is only power when it can be used effectively. Jon has a sword, and holds the rope, and Ygritte beats him with her wits and his weakness. Arya has killed two dozen Lannisters with one alliance. The BWB is scoring points on Arya's kills by reputation alone. Theon has murdered a pair of kids, which exercise of power gains him nothing and costs him any hope of holding Winterfell. And Cersei is happy to bloviate about love being weakness, while her anguish over Jaime is consuming her.
The weak beat the strong by enraging them and denying them targets. Prisoners beat their captors by challenging them to be unjust. A man without honor wins by forcing his opponents to be honorable. It's all in the game.
Shortlink:
Posted by
Will Judy
on May 13, 2012. Filed under
Headline
,
Popcorn
. You can follow any responses to this entry through the
RSS 2.0
. You can leave a response or trackback to this entry