A Little Black Dress and No Vomiting Blood
My mother's generation had a saying about how you could go anywhere so long as you had a little black dress. I've been working on putting this to the test this September. Every year, I tend to feel kinda gothic during the summer and I perk up as soon as it is Fall. I don't know if this is some sort of Reverse Seasonal Affective Disorder (Disorder is such a judgmental word.) or if I just really like school to be in session, whether or not I am attending it. My birthday is also in August and I tend to use my birthday and New Year's as times to make adjustments designed to perfect my existence. This Fall, I've made a commitment to get out and enjoy what Los Angeles has to offer. So I bought a lot of little black dresses and have been trying new things and enjoying it a lot as it happens. The only weird thing about doing so much which is brand new is that it creates a bit of social anxiety.
The feminist blog/site Say Object referred to me saying,
"One of our favorite feminist thinkers, Amelia G of BlueBlood.net, recently weighed in on the "Captivity" billboard controversy, and some of what she says suprised us (plus, Girl clearly did her research)."
Writer/editor/cupcake fetishist Rachel Kramer Bussel and I were chatting about the Say Object mention and she told me they were having a party.
So Tuesday night, although I knew I was eventually headed to the West Side to help Blue Blood hottie Superna celebrate her birthday, I started all the way on the East Side at The Echoplex in Echo Park. The first event on deck was the The Conversation which was the opening act for Yo Majesty at Lady Party 911. Apparently comedians Jessi Klein and Jessica Chaffin do a weekly show called (I think) The Pages where they intellectualize tabloid fodder in a humorous fashion. The duo moderated The Conversation for this event where the topic was Punishing the Princesses. Basically the idea was to do a feminist deconstruction of why, as a society, we put people like Paris Hilton, Britney Spears, and Lindsey Lohan on a pedestal and then knock them off it. The panelists were Tracy McMillan who I kind of think maybe writes for television, but I'm not sure. Then there was Jen Sincero who was apparently booked because she wrote The Straight Girl's Guide to Sleeping With Chicks, although Don't Sleep With Your Drummer is the books of hers I'm familiar with. It would be most accurate I guess to say I'm partly familiar with it, as I was enjoying reading it but was in the middle of it when Blue Blood exhibited at Erotica LA and a couple of members of Jen Sincero's entourage stopped by my booth and acted so weird that I never got back to reading it. Rounding out the panel was Nina Hartley who, at least for me, I thought needed no introduction. For the event she was billed as Porn Queen Nina Hartley.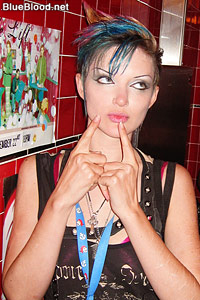 Jessi Klein and Jessica Chaffin were good moderators and kept The Conversation flowing. They have a sort of intelligent sex-obsessed vibe that strikes me as sort of Sex and the City, despite the fact that the closest I've come to seeing that show is watching a spoof of it on Saturday Night Live. Tracy McMillan says that she thinks masculine energy is all about going out into the world in a hunting sort of way and that feminine energy is about being receptive and gathering things in a powerful way. She says that she thinks Madonna has evolved from seeking masculine power and energy to seeking the feminine side. I think that I am secretly a man. Jen Sincero explained that she wrote her The Straight Girl's Guide to Sleeping With Chicks because she found herself thirty-five-years-old and in a relationship with a woman for the first time. She said that she interviewed a lot of people for the book and that the people her own age she interviewed were very caught up with issues of sexual identity, but the younger people had more of the attitude of why wouldn't you just sleep with whoever you feel like. Nina Hartley surprised me by being really awfully cool. I sort of thought I knew who she was in a general way, but she had really interesting insights. She is definitely not just another pornstar with an unconventional relationship and a publicist who claims she is smart. She is very well-spoken and was able to make interesting counterpoints all evening to an audience which was not necessarily porn-familiar or even porn-friendly. At one point, the panelists were talking about some reality show chick who had nude photos of herself posted to the internet and, while deconstructing whether the photos were more simply nude than prurient, someone mentioned that the girl was seventeen. Nina Hartley expressed horror and the other people on stage were like seventeen, eighteen, nineteen, what's the difference? From a professional performer's perspective the issue has to do with what is legal and I thought she handled that and other issues really well. The most interesting point she made was when they got to the topic of blowjobs. Apparently, some teen perv researchers recently did some sort of study (yeah, sure, a "study") of how girls as young as twelve are just handing out the blowjobs these days and boys are not reciprocating. Nina Hartley said that, when she was fifteen, the notion of boys not reciprocating would have been totally uncool, but that she was interested in penises and would have been interested in giving blowjobs. However, she did not know that she could be alone with a boy and have limits on what she would do and she did not feel ready for intercourse.
Now you would think that, having had the site responsible for the event call me a favorite feminist thinker, I would not be experiencing any social anxiety, but that would be inaccurate. I figured I would be just kinda incognito and get to see other people talk. Only my good friend Lange kept hitting me on my cell during the talk because he had gotten to the club for the Superna birthday party an hour early. My cell phone is set so it is really loud when being turned off. It sings an entire song before powering down. I generally only think of how annoying this is at times when it would be even more annoying to play with the cell phone settings. So I just kept hitting mute and texted him where I was. I think the ringing makes the people sitting near me glance over at me and it turns out that one of them is Julia Rubiner with a super different haircut from the last time I saw her at a party at her house. Julia was kind enough to help write some Blue Blood About Us stuff when I was totally hyperventilating and blocked on writing it. I actually would have worked with her a bunch more, only all of her publicist pals were apparently part of the same pact to put a media blackout on Blue Blood projects. Whatever. It was nice to run into her.
Once The Conversation was complete, I got back in my car and drove like a bat out of hell, just long enough to get kind of turned around and lost in Echo Park. Fortunately, my cell phone features the primitive form of GPS where you call your friends and make them MapQuest where the fuck you are. I have nice friends.
I make it over to The Viper Room and meet up with the rest of the Blue Blood posse. The entire downstairs lounge is set for a Superna takeover and she is getting ready to play an all acoustic set with a new drummer. Uber-scenester Casper, of Coyote Shivers band fame, makes me and Forrest Black feel very welcome and we appreciate it. Last time I bought Superna shots, she vomited blood, so I don't get her any birthday shots, but everyone else does. After her performance, she and Scar spend most of the rest of the night making out.
We hear that Fred Durst is filming a reality show in the upstairs of the club shortly. That seems like the perfect surreal end to the evening, so we all trundle upstairs. Fred Durst is gracious and nice, although I get the sense that, like me, part of him is really into being where he is and part of him is just crawling out of his skin with so many people around, looking and maybe judging. The band on stage for the reality show has a kind of an 80's hard rock Pat Benetar sort of thing going and I like them, although security requests that I not shoot while they are on stage and I comply because I am considerate like that. When folks are nice to me anyway.
The thing people who are not extremely shy sometimes don't get about me is that, it is already kind of painful to leave my house. Once I've exited the building, it is no more uncomfortable for me to talk to a rockstar than it is to chat with someone I vaguely know. It is all over the agony threshhold in a way and it is all interesting and stimulating in a way, so it is sort of all the same to me. I'm actually most comfortable with total strangers and with people I know very well. People I sort of know make me the most uneasy.
In closing her set, Superna mentions from the stage that people who want to see her naked ass (which must be everyone!) should go to BlueBlood.com. When I go into the bathroom, someone has put a Blue Blood sticker up in one of the stalls. I'm not sure how much longer I'm going to be able to maintain my anxiety level, if the universe is going to be so sweet to me. I hope my art doesn't suffer.
Shortlink:
Posted by
Amelia G
on September 18, 2007. Filed under
Blue Blood
. You can follow any responses to this entry through the
RSS 2.0
. You can leave a response or trackback to this entry