Blow Art – Serena Toxicat Interview
Blue Blood hottie Serena Toxicat recently mentioned that she would be showing thirty of her art pieces at the Blow Gallery in Berkely, California. If you are in that neck of the woods, you can stop by 2112 Berkeley Way, Berkeley, CA 94704 for an evening of hotties like Serena Toxicat, art, and possibly some free booze. Most gallery shows have free booze. I try not to examine why too closely. Here you can examine the conversation Serena Toxicat and I just had about art.
Amelia G: What first got you into creating? Were you always creative?
Serena Toxicat: Apparently as a 5 year-old my painting looked like pointillism. My 1st grade art teacher raved about the stuff. After my dad saw how much I liked to color and paint, his best friend bought me a set of acrylics and I never looked back, except to kick my own ass to make more. I do so many things in the world of art and performance that my productivity in any one area tends to ebb and flow.
Amelia G: What are your favorite media to create in and how to you feel writing vs. visual arts compare for expressing yourself?
Serena Toxicat: I love acrylic and just developed a system whereby I draw in marker over an acrylic base. I also like making sculpture with found objects and occasionally indulge in photography. I made some mixed media pieces, with b&w images of my pointy little Isis as the central focus. Most intriguing might be my channeled oracular pieces. I close my eyes and let the spirits paint with my hands. You should feel the energy coming out of those things!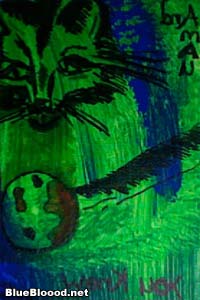 Creating is creating, and if I'm happy with a piece of art I feel the same sense of completeness I do with my writing. Usually the visual stuff goes faster. Well, compared to a book it does!
Amelia G: Who is curating the Blow show and how did you get involved? Does it have any particular theme?
Serena Toxicat: Amy O'Rourke, one of the stylists, curated the last two shows. It is very eclectic – everything from artistic nudes to hanging paper sculpture – and she is quite happy about that!
Amelia G: Is it true that the Blow gallery is actually a hair salon? If so, how does that work? Do they get the sort of clientele where the art and hairstyle work have good synergy and complement one another?
Serena Toxicat: Yes! And they do great hair. It seems to work well for them, this meeting of the aesthetic worlds. The clients appreciate it and many come to the shows and buy or just enjoy. Blow has a new opening every 10 weeks with fantastic catering. They have been combining hair and showing art for as long as I can remember. I discovered them while searching for a colorist. When I found David, who has since moved, we developed a relationship based on bright horizontal stripes (in my hair) and mullets (as material for many a delirious joke).
Amelia G: When to when can people see the show? Anything in particular, specific art piece of yours, event feature, other artists showing with you, whatever, which you think people will extra enjoy?
Serena Toxicat: It starts Sat. 4-4 and closes June 7. I'm really excited about my bright green and orange pieces. They address important issues, like depression, anxiety, eating disorders, etc., and feature multicultural female (so far) subjects dressed in gothy striped frocks.
I also hope people get off on my socially conscious and poetic propagand[iv]a video. I play a newscaster and talk about everything from Bush and Obama to animal activism and being nice to hookers. Jim Stipovich has been showing his nudes since the 70's. I'm sure he'll bring out his following out of the proverbial woodwork and make many new fans! I also love Shaista and Kelly's stuff. Fun!
Shortlink:
Posted by
Amelia G
on April 4, 2009. Filed under
Blue Blood
. You can follow any responses to this entry through the
RSS 2.0
. You can leave a response or trackback to this entry