Dead Girls Are Easy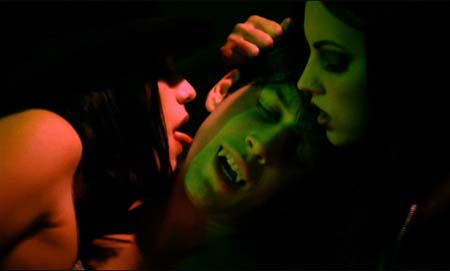 69 Eyes have released a video for the debut single off their forthcoming Back in Blood album. The video is called Dead Girls are Easy. It is sort of an 80's sleaze rock video homage where the 7/11 clerk fantasizes about the hot gothic girls who prance through his store in the midnight hour. In his fantasy, the goth chicks turn out to be vampires who take him for a ride in their black as night car (a 70's boat style Cadillac), gangbang him, and of course turn him into a vampire. Oh yeah, and the 7/11 clerk turns out to have a slammin' bod hidden under his horrible orange uniform and he looks much hotter under blue light. Really, everyone looks hotter under blue light (See The Matrix, Underworld, and probably around a quarter to a third of my own photographic body of work.) Then the clerk wakes up and is it a dream or isn't it? Sort of classic rock video/fairytale storyline.
For some reason, the Dead Girls Are Easy video has been released exclusively for Playboy so far. There is (alas) no nudity in the video, so I assume other outlets would have no problem with it.
Dead Girls Are Easy is directed by Bam Margera. I am embarrassed to say I had to do a search on his name, but he is an awfully accomplished guy. Bam Margera is a pro skater who most notably co-created Jackass and appeared as a primary character in Tony Hawk's Underground video game from Activision.
I feel like I won back some awareness points, however, when I read the Playboy article about the 69 Eyes video and some of the accompanying text read, "The band may be from Helsinki, but their sleaze-rock sound is straight up Hollywood—think GN'R or L.A. Guns plus the cartoon horror of the Misfits. For the lyrics on the new LP, the 69 Eyes drew inspiration from vintage vampire soft-porn classics by directors like Jean Rollin. Their obsessions come to fruition in Bam's video, an undead spin on the concept of ZZ Top's "Sharp Dressed Man."" I'm absolutely with them on the Sharp Dressed Man comparison, but, uhm, Hanoi Rock anyone? Hanoi Rocks was incredibly influential on the Hollywood hair metal or sleaze rock or whatever people want to call it this week's scene. And, yes, Hanoi Rocks originally hailed from Helsinki, although it was the drunk driving death of their drummer Razzle in a car crash with Motley Crue's Vince Neil at the wheel which most pundits agree kept the band from superstardom. Hanoi Rocks's lead singer Michael Monroe was so ridiculously hot that I once had a girl at a solo performance rock show he performed try to fist fight me for being closer to the stage than she was. In point of fact, at a time when America is primarily marketing ironically uncool altrock and faux wholesome pop, Scandinavia is keeping the homefires of rock and roll and rockstar incandescence burning properly.
Anyway, 69 Eyes. Dead Girls Are Easy. Vampire gangbang sex.
Peter Gibbons: What would you do if you had a million dollars?
Lawrence: I'll tell you what I'd do, man: two chicks at the same time, man.
Peter Gibbons: That's it? If you had a million dollars, you'd do two chicks at the same time?
Lawrence: Damn straight. I always wanted to do that, man. And I think if I were a millionaire I could hook that up, too; 'cause chicks dig dudes with money.
Peter Gibbons: Well, not all chicks.
Lawrence: Well, the type of chicks that'd double up on a dude like me do.
Peter Gibbons: Good point.
Lawrence: Well, what about you now? what would you do?
Peter Gibbons: Besides two chicks at the same time?
Lawrence: Well, yeah.
Peter Gibbons: Nothing.
I was going to edit one of the awesomest exchanges in the very awesome Mike Judge movie Office Space to reflect the fantasy of four vampire chicks at the same time, but I figure you all get the concept.
Shortlink:
Posted by
Amelia G
on August 6, 2009. Filed under
Blue Blood
. You can follow any responses to this entry through the
RSS 2.0
. You can leave a response or trackback to this entry