MSNBC vs Adam Lambert and Twilight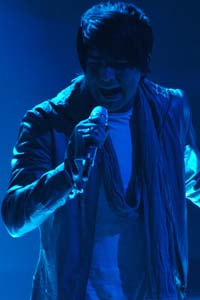 So Linda Holmes of MSNBC just posted an article where she called FOX's American Idol front-runner Adam Lambert "self-indulgent and not particularly creative". I know FOX and MSNBC are competitive with one another, but I just think Linda Holmes is way off-base. She goes on to say:
"But what, exactly, is the Adam Lambert constituency of the future? He would be popular with fans of … what? The judges seem to think that the answer is "Twilight," but what kind of sense does that really make? . . . But before anyone goes anointing him some kind of highly marketable future star, take another look at that performance of "Ring Of Fire," and ask yourself whether you'd hear that on the radio."
First off, I feel like Twilight and Adam Lambert are two of the only major mainstream pop culture phenomenons of the new millennium which actually are made for an incredibly underserved demographic. When I look for Blue Blood appropriate subject matter which is new, Twilight and Adam Lambert are two of the only things on the radar there. The Twilight soundtrack has been in the Billboard top 10 for twenty-two weeks now. Carter Burwell's freaking score for Twilight entered the Billboard charts five weeks ago and is still hanging in there. So, if MSNBC doesn't see the relation between Adam Lambert and Twilight and what a lot of people would like to be entertained by, they need new pop culture analysts. (I'm expensive, but I invite them to get in touch.) American Idol winners also hold multiple spots in the current Billboard top 100 with Kelly Clarkson, David Cook, and Carrie Underwood all charting. So American Idol fans do buy music.
Secondly, turn on the radio or MTV and listen to the most recent Trent Reznor Nine Inch Nails or Marilyn Manson David Bowie or Ministry or Combichrist or VNV Nation or Depeche Mode or Godhead or KMFDM or Marc Almond or Sisters or Mercy. Oh wait. You can't. If you like either a goth-industrial and/or glam sound or a goth-industrial and/or glam look, you probably still don't know which of those acts have new albums out. Because radio is not playing them. Yet many of those artists still movie significant units without radio airplay or MTV support.
Yet the MSNBC writer goes on to say:
"For all the discussion of Adam's originality and freshness and relevance, his aesthetic is an inky-haired, nail-polished cliché — perhaps appealing and perhaps not, but certainly nothing you couldn't see in New York, Seattle, or, for that matter, Akron. The sulky glower, the whimper-face, the moaning, the Sad Elvis sneer … there's nothing wrong with it, per se, but to praise it as particularly creative screams, "I do not watch MTV.""
Does Linda Holmes watch MTV? I love music videos and I get multiple MTV channels, Music Choice downloads, and FUSE. And I've been publishing work with a dark glam gothic vampiric aesthetic for more than sixteen years and doing rock journalism, including covering the 80's glam scene for a bunch of years on top of that. So I feel pretty qualified to say that MTV has very little to offer those who like inky-haired and nail-polished men. In point of fact, I must sorrowfully admit that the only options for that general taste are Fall Out Boy, My Chemical Romance, and Rev Theory. Maybe Good Charlotte and Avenged Sevenfold if any of the video channels were currently playing them, which they are not. I would also include Queens of the Stone Age based on musical talent and approach. And that is about it. Not that the music and merch sales there are poor.
I don't have an iTunes account at the moment, so I can't confirm this, but I hear that Adam Lambert's performance of the Tears for Fears song "Mad World" was a top download. The voting on American Idol this year breaks a new record every episode. And both Vegas bet-makers and internet data analysts are pretty sure Adam Lambert is going to win American Idol this year. So somebody is interested in Adam Lambert, beyond the average American Idol audience.
I didn't really have a lot to say about Adam Lambert's performance of "Mad World" last week on American Idol, but, in light of today's MSNBC article, I'm going to comment on it now. The show ran a bit overtime, but I always set my TiVo to record a few minutes extra at the end of live shows like sporting events and at the end of shows on networks like Comedy Central, Showtime, HBO, and NBC who have trouble telling time. So, unlike a few million Americans whose TiVos were not set for extra time, I saw Adam Lambert's stripped down "Mad World". He did the song bathed in blue light, without costuming, and with very little motion, and it came off powerful. Personally, I like guyliner and swivel hips, but I understand entirely why sometimes it is necessary to demonstrate that the eyeliner and pelvic moves are sizzle on an excellent steak. Otherwise, a genuinely talented performer who employs costume and drama can be dismissed as all sizzle.
The "Mad World" ode to teenage depression and alienation was originally written and recorded by Tears for Fears in 1982. That's a bit before my time, but I was still a bit surprised that I had not recognized it when Adam Lambert performed it. Apparently, the version he sang was one redone for the Donnie Darko movie. I've never seen Donnie Darko, but I understand it is an aesthetically pleasing and depressing update of the James Stewart vehicle Harvey. (Not really, but they both have big rabbit phookas advising the main character.) I'm entertained that Richard Kelly, the writer/director of Donnie Darko, is one of the producers for the upcoming Tucker Max movie, I Hope They Serve Beer in Hell. (If only Tucker Max wore eyeliner.) At any rate, Richard Kelly had wanted to use a U2 song for the closing credits, but U2 were too pricey to license, so he had a gent named Gary Jules cover the Tears for Fears song instead, in order to stay within budget. The spare and emotional Gary Jules version turned out to be very popular and successful and has been used in a number of sountracks since.
So technically, Adam Lambert was supposed to perform a song on American Idol from the year he was born, 1982, but he kinda sang a song from 2001ish when Donnie Darko was released. But it did sound and look nice. Tears for Fears bassist Curt Smith who sang the original synthpop version of "Mad World" tweeted on his Twitter:
"Morning tweeps, still spring break in the Smith household. Ton of twits and e's about Adam Lambert's Mad World, for the record I thought his vocal performance was pretty great bar a wobbly last note. Sobering that the original was released year he was born. I must officially be an old man ;)"
I guess Curt Smith did tweet from TweetDeck, instead of Spaz, which is what all the cool kids are using, but still:

From MTV, Tears for Fears "Mad World" lyrics by Roland Orzabal and originally sung by Curt Smith:
All around me are familiar faces
Worn out places, worn out faces
Bright and early for their daily races
Going nowhere, going nowhere
And their tears are filling up their glasses
No expression, no expression
Hide my head I want to drown my sorrow

No tomorrow, no tomorrow
And I find it kind of funny
I find it kind of sad
The dreams in which I'm dying
Are the best I've ever had
I find it hard to tell you
Cause I find it hard to take
When people run in circles
It is a very, very

Mad world
Children waiting for the day they feel good
Happy birthday, happy birthday
Made to feel the way that every child should
Sit and listen, sit and listen
Went to school and I was very nervous
No one knew me, no one knew me
Hello teacher tell me what is my lesson
Look right through me, look right through me
Shortlink:
Posted by
Amelia G
on April 14, 2009. Filed under
Blue Blood
. You can follow any responses to this entry through the
RSS 2.0
. You can leave a response or trackback to this entry